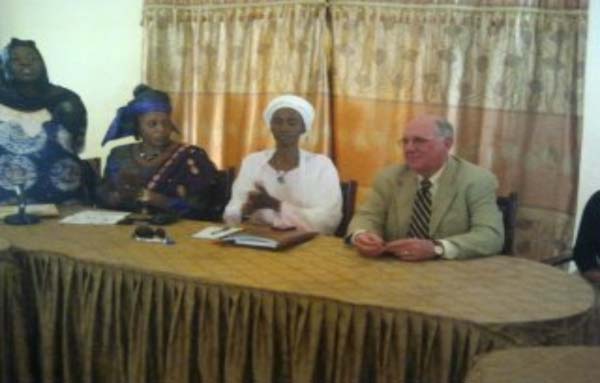 Female Lawyers Association of The Gambia (FLAG) with funding from the US Embassy recently organised a two-day training of female ward councilors as community paralegals, held at the governor's office in Brikama, West Coast Region.
The training, which brought together ten women ward councilors, was aimed at preparing them to serve as the community paralegals to settle dispute in the local communities.
The training was among several efforts that FLAG was doing to empower the women in order to take charge of their own destiny.
The President of FLAG, Ms Neneh MC Cham underscored the importance of targeting this group of people in the community.
This, according to her, would make a head way in resolving the minor disputes that emerge in the society's day in day out.
Introducing the association, Ms Cham said the association was formed in 2006 as a non-political, non-governmental, non-partisan, non-sectarian, non-profit making association made up of female members of the legal profession, focusing on promoting and protecting the wellbeing of women and children with the objective of eliminating violence against them, to promote freedom of expression and to educate and enable them to participate effectively in the development process of the country.
She added that in The Gambia and West Coast Region in particular could not afford to have access to legal service.
"It is also a fact that all legal practitioners including FLAG members live and practise within the Greater Banjul Area, as well as conducting advocacy program aimed at educating and enlightening folks on the rights of women and children," Lawyer Cham said.
She said that as a paralegal is to assist in solving legal problems they are usually the first point of call for many in the community by providing legal first aid, educating people about their right and basic laws, and also serve as a link between the community and other stakeholders in the administration of justice
She also said the purpose of the training manual that was developed and published by FLAG under its partnership with the Embassy of the United States of America was to serves as a guide to introductory training of competent individuals as paralegals, mainly on rights, procedures and issue affecting women and children.
She anticipated that the trainees at the end would be equipped and enabled to carry out their duties which include educating and giving basic legal advice to people, particularly women and children, who are the marginalised.
She further dwelled on family law in The Gambia, which she said, falls within the area of what is referred to as personal laws which generally covers matters of marriage, divorce and inheritance.
Madam Cham further talked about the alternative dispute resolution (ADR), which was not new to The Gambia as it had long been an age-old African way of resolving dispute between parties in the communities.
Olimatou Danso, a FLAG member who works as creator at the Ministry of Justice,  also briefed on gender-based violence and discrimination against women directed against a women because she is a woman, or violence that affects women disproportionately, and it includes act that inflict physical, mental or sexual harm or suffering.
Women's right and child are rights that women have right to, such as life, shelter, clothing, security, dignity and protection from inhuman treatment and education, she said.
She said no child shall be withdrawn from school for the purposes of marriage, no pregnant girl child shall be expelled from school; rather she shall be afforded the opportunity to return to school after delivery of her baby.
She also dilated on the issue of Lands Right and different types of ownership of Land.
Ms Nyima Bojang from Gambia Revenue Authority (GRA), also dwelled on legal system in The Gambia, the law that ensures quality and freedom of citizens of a nation, ensure offenders or violators do not go unpunished and also bring peace and stability to the country.
She also dealt with the laws and administration of justice, the role of the police, ombudsman and the social welfare.
Ms Bojang also dwelled on the roles of social welfare as they deal with children affairs, the physically challenged, counseling and former prisoners.
Madam Bojang said the ombudsman also have right to investigate issue that are reported to them if the employee feels he or she is not treated fairly, and they basically deal with issues that involved going between government and employees. 
Read Other Articles In Article (Archive)