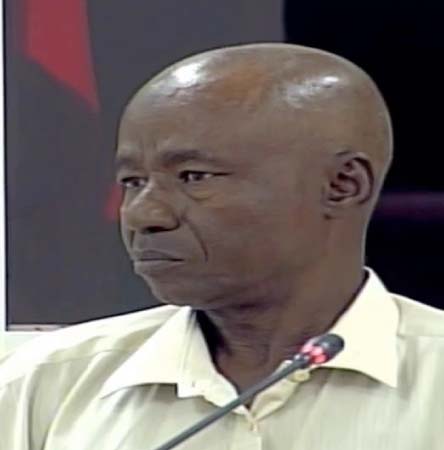 Abdoulie Barry, a victim of former President Yahya Jammeh's recklessly speeding motorcade yesterday continued his testimony before the TRRC. He explained how he attempted to get compensated by the state after being knocked by a member of the State Guard, leading to his now beggar status. He thus revealed one Dawda Sanneh as the perpetrator.

Mr. Barry explained that he had tried his best to be compensated, but to no avail.
Mr. Barry disclosed he was made to go to African Center for Human Rights Studies and upon arrival; he met the Executive Director Anna Foster. However, he said, he was further advised to go to the National Transport Union who also wrote a letter for him but was still unsuccessful.
Further narrating his ordeal, he said he continued to sit down doing nothing, while his fellow drivers and well wishers continued to support him.
However, he added that he further went to the Ombudsman, who also wrote a letter for him to the Office of the former President and IGP respectively but also proved unsuccessful.
"I owed the landlord 4-5 months and I was taken to the KMC rent tribunal."
According to him, the total rent he owed was D2500 but prior to that he owed the landlord D2000 making it a total of D4500.00.
While he was at his begging place, the wife went to him and informed him that they had been evicted from the house and even the food she was cooking was not ready and she was forced out.
"On that day we spent the night under a mango tree. During this terrible condition, I had three children who were going to school but they eventually stopped because I was unable to provide them with their needs. The male child resorted to carpentry." He said one Mrs. Corker helped his eldest daughter to continue her education till she graduated."
On his second operation at Edward Francis Small Teaching Hospital (EFSTH), he said a Cuban doctor advised him to help himself because there was a recommendation for him to remove the iron from his leg.
He said he is blessed to have a very good wife who took care of him very well during those difficult times. He added that it was out of frustration that he went to the Independent Newspaper to publish his problem to enable him get medical attention and in that story there was his photo with the crutches that aided his walking.
Mr. Barry recollected that after that publication while he was begging on the streets, lawyer Badou S. Conteh took him to Banjul Hospital and paid for all his medical bills and provided him with rice and fish money as well.
According to him, Mr. Conteh did not only stop at that, he also wrote a letter to the Office of the IGP.
After his several attempts to meet Yahya Jammeh, he narrated that one Camara ordered him to leave Kanilai with immediate effect but he told him that he was handicapped and there was no vehicle at that time.
He said he was later taken to Brikama Magistrates' Court on the grounds that he had accused the State and was forcefully made to thumbprint documents and told that he gave false information and that was why he was going to the court.
"The magistrate told me that I was charged with giving false information and I would be remanded in custody. I explained what happened and also showed my medical report and other relevant documents and I was eventually granted bail."
Read Other Articles In Article (Archive)