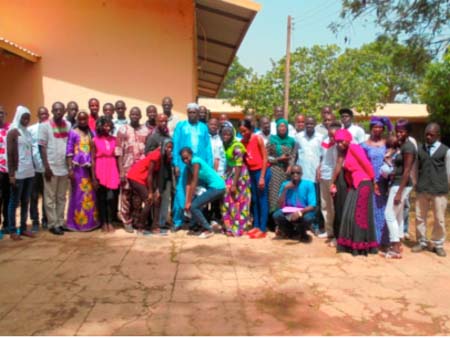 "Without young people our desire and vision to achieve food security cannot be realized," said Lamin Darboe, executive director of National Youth Council (NYC).

Mr Darboe was speaking during the opening of a five-day training of 40 young people on business plan development at the Rural Development Institute (RDI), Mansakonko, Lower River Region.
Organised by the National Enterprise Development Initiative (NEDI), the training was funded by the Gambia Commercial Agricultural Value Chain Management Project (GCAV).
It was meant to improve the competence of young people in business plan development and enable them to produce bankable business plan for resource mobilisation to finance their individual businesses.
"Without investment in young people our desire to make this country food self-sufficient cannot be realised, because young people constitute the larger percentage of our society, and are expressly the energy backup for the generation of our country," he said.
He also said they are the generation opportune to have many of the youth educated, or could read and write, which goes along with creativity and innovation.
They are also lucky to be the generation of advanced technology, he added.
All these put together, the nation could not exclude this segment of society and still hopes to be able to bring in rapid and accelerated development including food self-sufficiency, he said.
According to him, youth unemployment in The Gambia stood at 38 per cent, 10 digits ahead of the national average of 29 per cent.
"This is the youthful population we are talking about, the core of our generation and should be the center of our economy and the productive sector," he stressed, saying: "If we have 38 per cent unemployed then we have a problem."
He said the business plan development clinic would help participants to improve and develop their skills and competence, to enable them produce bankable business plans to mobilize resources and employ themselves.
"It is a life-changing moment for you who are opportune and privileged to be with us in the training," he said.
He said further that the training would go a long way in addressing the issues of youth unemployment, poverty and youth skills in capacity and low participation of young people in agricultural production and value chain management.
"For us to provide the employment needs of our young people agriculture cannot be neglected," he said. "Agriculture has been and will continue to be the basis for mass employment provision for any economy including The Gambia."
He applauded GCAV for the support they have rendered to NEDI and other youth development projects in the country, saying "they are one of the projects" that prioritise investment in young people.
Salifu Puye, governor of Lower River Region, described the programme as very key to the development and employability of young people of the country.
He said any business that has to yield something there must be a plan, saying making a business plan is very scientific, because "there are set of tools and ingredients you need to know to be able to do something better".
"To address the youth unemployment in our region we must seek knowledge, trained skills, and venture into agricultural programmes. These are very vital for any developing countries," he said.
Landing B. Sanneh, general manager of NEDI, said the importance of planning should not be underestimated; whether it is in written form or in one's mind it is very vital to plan.
"If you fail to plan, you plan to fail. For everything in life, if you want to be effective and successful in anything you have to plan," he said.
"Entrepreneurship is not child's play; you must be ready to do the change that is necessary, in yourself, compound, community, society and the country," he noted.
He said NEDI is out to promote enterprise development matters, and enterprise could not emerge without entrepreneurship.
"NEDI provides support to the youth and women in enterprise development and we do it in different formats; it is either through trainings by giving youth the skills, support services (micro-loans, business development services) or other forms of support," he said.
This, he added, is to empower and give the young people and women the requisite capacity to be able to participate in enterprise development.
He said they could not do it alone, which is why they have partners like GCAV to fund the project.
"This project is supporting enterprise development through value chain addition, especially in agriculture, and rice is the main product," he said.
Ousman Sonko, lead trainer in the NEDI-GCAV business plan development clinic, said the main motive behind the training was to support youth enterprises for sustainable employment creation.
He said the essence of the training was multifaceted: "it gives you the skills and knowledge to develop one's own business plan" with adequate support from mentors.
"The training is different from the normal and usual training we attend," he said. "It is step-by-step and we must all insist on finishing our plan come end of the training," said Mr Sonko who is also the vice principal of RDI.
He added: "Youth issues are crosscutting issues; they are not sectoral issues; they are beyond one ministry, and we have a responsibility as a training institution."
Read Other Articles In Article (Archive)