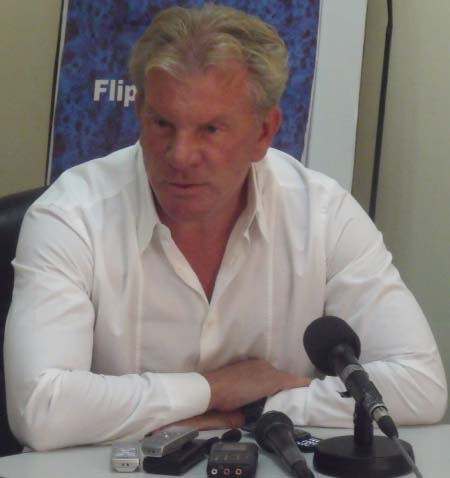 Alieu K. Jammeh, Minister of Youth and Sport, has said former national team coach Paul Put could not achieve much for The Gambia because people in the national sports fraternity are unwilling to work together.
"Paul Put was here for four years and could not achieve anything which is also due to endless gambling within our sport," he said.
"We need to ask ourselves why Paul Put was able to succeed in Burkina Faso within a short period of time," he queried.
"We are all stakeholders in sport and should contribute positively," the sports minister appeals.
Minister Jammeh, who was speaking at a stakeholders meeting held at the Independence Stadium Friendship Hostel in Bakau, said they have noticed something going wrong in the country's sports sector, especially as the Gambia National Olympic Committee (GNOC) election approaches, adding that they want to address that anomaly quickly.
"We will continue to make efforts to unite everyone to develop sport and serve the athletes since it is the athletes that we are all working for," he said.
"If we do not work together I do not see us achieving our objectives of serving the athletes."
He said they have had dialogue with people in sport and also had a nationwide tour just to bring stakeholders and other people together within the beautiful game.
"We need to graduate from disagreements," he appeals, saying: "Let us not jeopardize the development of our sport and athletes."
The sports minister continues: "Let us give chance to those who are willing to volunteer to move our sport forward if we are not willing to since Gambian sport is about volunteerism.
"We have talents but should ask ourselves why we are not developing. Other countries are doing fairly better than us and that is because we are not willing to work together.
"If there cannot be continuous peace in our sport, let's give way to others; let us not hold the nation at ransom because of our own interest."
Minister Jammeh called on everybody in sports to resolve to work together or give way to others.
Read Other Articles In Article (Archive)