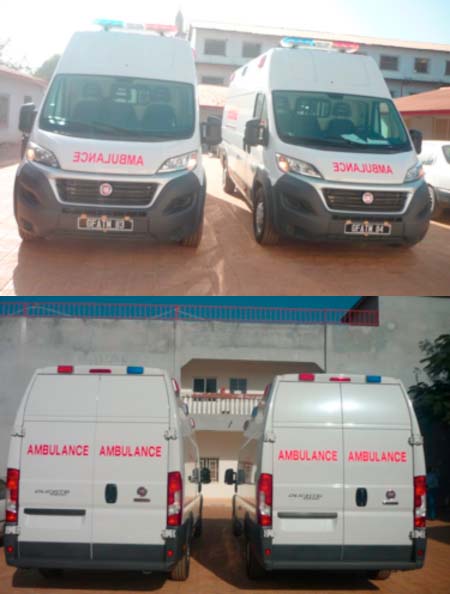 ActionAid International The Gambia yesterday 2 February 2017 handed over two mobile clinic vans, worth $98,000, to Worldview The Gambia, meant to ensure the provision of timely and quality health care services to people affected by HIV and AIDS.

The primary focus of the mobile clinic vans is to provide health screenings and primary care services to geographically and socially isolated populations.
The services of the clinic are intended to provide episodic care to the most vulnerable and, in some cases, serving as the primary medical provider for many who lack immediate health care when it is most needed.
The initiative will be providing free medical consultation for all communities characterized by high concentration of poverty, large proportions of young people and vulnerable groups with significant health challenges.
The mobile health clinic will also provide teaching and awareness creation initiatives, through the dissemination of relevant health and HIV and AIDS messages.
The community outreach to be provided by these vans will further be linked to the strategically positioned wellness centres in key towns and regions across the country, where various health interventions are being provided to promote healthy behaviour change through the dissemination of different prevention messages.
While implementing the mobile vans services, the national HIV and AIDS response programme will benefit from the promotion of greater access to RCH services, Family Planning, HIV Counseling and Testing, condom distribution, treatment, care and support to people who need such support.
Speaking at the handing over ceremony held at ActionAid's headquarters, Omar Badjie, Executive Director of ActionAid International The Gambia, described the day as an important step in the national effort to further reach out to communities and individuals in hard-to-reach areas, in order to provide them with knowledge and skills to prevent the spread of preventable diseases such as STIs, including HIV and AIDS.
Mr Badjie said for a long time they had been wondering how to reach out to vulnerable people in remote areas with an intervention, which ensures quality, efficiency, effectiveness and sustainability.
Investment in the mobile vans will go a long way in attaining the above stated objectives and, at the same time, ensure the delivery of comprehensive health care to high risk populations and communities in the country, Badjie added.
The usefulness of the vans will further become a conduit in improving behaviour change targeting at risk groups in key affected populations, and the general public in providing counselling and testing services, he continued.
Mr Badjie looks forward to having regular meetings of key stakeholders including the Ministry of Health, NAS, ActionAid, NACP, Worldview and other interested stakeholders to discuss achievements, challenges and the way forward.
It is expected that reports of the mobile clinic services will be shared by Worldview with relevant players for reviewing information, and taking informed decisions during programme coordination meetings hosted by the PRs, he also said.
He advised Worldview, the custodian of the vans, to take good care and proper upkeep of the vans and ensure that maintenance is done when it is due.
"The vans must be kept clean and hygienic at all times to ensure that they are not the cause of disease transmission|.
He further advised them to make sure they are guided by the operational guidelines developed in the management of the vans, so that priority is given to the purpose for which they have been bought over everything else.
Services should always be provided to people in need irrespective of their social status, religion and political affiliation, Badjie went on.
"I will not conclude without extending our profound gratitude to the Global Fund for providing the resources to support the procurement of the vans; the government and people of The Gambia for the support and encouragement.
"I wish to also extend warm and sincere appreciation to all our esteemed partners in the fight against all diseases, especially HIV and AIDS, notably the Ministry of Health, NAS, UNAIDS, WHO, HOC, CSOs and all SRs.
"My sincere thanks go to the CCM for ensuring overall coordination and technical support whenever needed," he concluded.
Alpha Khan, deputy Director National Aids Secretarial, said mobilizing health care is a simple, obvious, and underutilized idea, adding that it is about taking screenings, primary care, advice; and in some cases even hospital-grade trial out of the building and as close as possible to people's homes.
"By doing this, we also get as close as possible to the early stages of health issues. It seems obvious, and yet it's rarely implemented."
According to Mr Khan, mobile clinics are uniquely qualified to provide high-quality care to underserved populations with considerable cost savings.
If mobile clinics are integrated well, they could serve as vital cogs in the health system, he noted, adding that they are about delivering care closer to and centred on patients, transporting them to a bigger health centre when needed, and addressing a medical condition before it reaches another level.
In view of The Gambia's situation regarding KAPs, the WHO guidelines have been adopted and gradually integrated to improve on the existing CSS approaches to effectively respond to the needs of the KAPs.
Having standalone services or specific service delivery points directed for this particular targeted population will further increase and institutionalize stigma and discrimination, he continued.
Worldview chairperson Amadou Tall, in receiving the keys, said, "the handing over is timely, as we have got a new government."
He added that the mobile clinic vans will enhance their work and, therefore, thanked the donors.
Read Other Articles In Article (Archive)