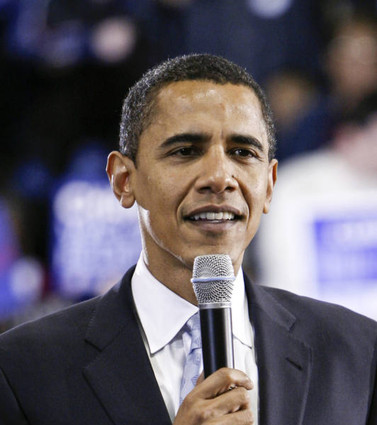 The race for the much-talked about presidential election in the United States has picked momentum as the question as to who will emerge the winner predominates with each passing day.
Both the Democratic and Republican camps under Senator Barrack Obama and Senator John McCain respectively seem to be optimistic about their chances despite opinion polls giving Senator Barrack Obama a favourable and clear lead.
The election, seen by many as the most momentous and historic presidential poll in America's political annals, came at a time when the world's economy is in crises and environmental considerations are also uppermost in the minds of people who are being threatened by climate change.
However, given the reality of American political and social history, any prediction as to the possible winner will have to take into consideration the tendency of sudden changes in political fortunes.
In an opinion poll carried out by this paper yesterday, many people, Gambians and non-Gambians alike expressed the view that for America to restore its world leadership image, a change from a Republican to Democratic Administration should take effect on November 4th.
"As things are going, I am in for Obama because everything is on his side. Looking at the opinion polls, Senator Barrack Obama has definitely convinced the people of America. Politically, the American economy is in disarray due to its foreign policy especially towards the Far East. This state of affairs has impacted considerably on its economy and it has made a lot of people suffer. I think Americans should come November 4th change from a Republican government to a Democratic one", said Hon. Lamin Jammeh, National Assembly for Illiasa constituency.
For one Mr. Babou Gai, a banker, Senator Barrack Obama is in a better position to lead America. "My honest opinion is that after listening to both candidates in their televised speeches, I definitely believe that Obama will win in the sense that he has a better economic plan not only for America but also for the rest of the wider world.
Despite being a black, Senator Obama has a better view of the challenges facing America and the wider world. He seems to be having a new plan for America and the globe because he has distanced himself from the Bush administration, which is a nightmare for the whole world.
For Senator John McCain, he has no new plan for Americans. Having critically listened to his televised speeches, he just wants to continue with the policies of President George W. Bush, which have led to the imminent global recession".
Hon. Kebba Gaye, National Assembly Member for Jokadu constituency has this to say, "Basically in my own honest view, America should come up with a President that will help solve the current economic, political and leadership crisis. America needs a leader who would definitely come to the aid of Africa and Africans and I believe Senator Barrack Obama is the right man."
"We also expect that the elections would be done in a peaceful and transparent manner and allow democracy to prevail," he said.
According to one Ebrima Camara, a student at the University of The Gambia, the latest opinion poll, which gives Barack Obama an early lead is an indication that Americans now think of themselves as the same Americans. This, he says, is a history that should be followed even in Africa that, I belong to this tribe or that is irrelevant. We should look at ourselves as people belonging to one nation and be proud to pronounce our nationality. Definitely, from my own point of view, Obama will make a historic departure from the cold war if he moves from the policy of being lopsided in international relations and adopt a policy of multilateralism if he is given the opportunity to manage the affairs of the United States.
"Despite being about to take over at a time when the world's economy is in crisis, Barack Obama is the man that can build a strong economy for America through prudent fiscal and economic policies."
"Obama's election as the next president of America will be a dream come true in the sense that he will be the first African American to be elected president of America. This will be unprecedented in the history of the United States of America and I think all Americans should rally behind Senator Barack Obama for the betterment of not only America but the world in general," said one Ya Mai Camara, a businesswoman.
"Barack Obama will win and all signs are pointing towards it, opinion polls and even Republicans are endorsing him as president. America is the land of liberty and the dream of the late Martin Luther King will soon become a reality. Why then Americans are trying to kill Obama and forty other black Americans at a time when the wind of change is blowing? Change we need, and change we will get," said one Ahmed Carayol of Bakoteh.
Read Other Articles In Article (Archive)