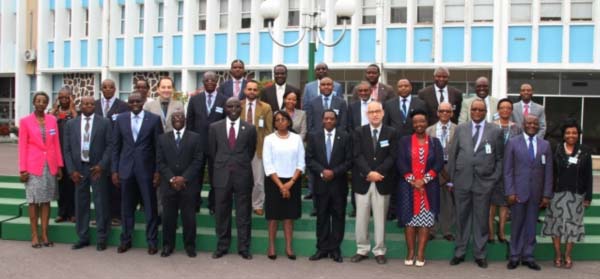 High ranking officials from the African Union Commission (AUC) and the World Health Organization (WHO) are meeting in Brazzaville to take stock of their collaborative efforts to improve the health of people in Africa.
Among the issues being discussed are progress made so far in the WHO-AUC partnership, the establishment of the African Centre for Disease Control (African CDC) and ways of improving collaboration between WHO and the African CDC. The meeting will also deliberate on how far African countries have implemented the agreed actions during the first AUC-WHO Ministerial Conference held in Luanda, Angola in April 2014.
Welcoming the delegates, Dr Matshidiso Moeti, the WHO Regional Director for Africa, underscored the strategic importance of the WHO-AUC partnership. She noted that the comparative advantage of the two organizations, their convening powers and their roles as secretariat of Member States can help position health as a central development theme on the continent, particularly in the context of post-2015 development agenda.
"It is particularly important that we continue to explore how best we can more effectively synergize the work of our two institutions for the betterment of our people in Africa. I am talking about the political mandate of the AUC and the technical mandate of WHO and how best they can be used together in a complementary and synergistic manner", said Dr Moeti.
The Regional Director commended the AUC for its advocacy and mobilization of nearly 1000 volunteers in response to the Ebola virus disease outbreak.
In his remarks, Dr Mustapha Kaloko, the African Union Commissioner for Social Affairs, highlighted some of the achievements of the AUC-WHO Partnerships during the past three years, including re-establishment of a WHO Liaison Office to the AUC, joint Ministerial meeting in Angola and development of a joint work plan. He said although the collaboration is going well, both parties could further strengthen collaboration by having a common position before consulting Member States on matters of mutual interest such as the establishment of the African CDC. Dr Kaloko further stressed the need for the AUC and WHO to work together to respond to emergencies as well as coordinate the continent to speak with one voice at international fora such as the World Health Assembly.
The two-day bilateral is expected to agree on a revised joint work plan for the period 2015-2016, including preparations of the next joint ministerial meeting which is expected to take place in Tunis, Tunisia in April 2016.
Read Other Articles In Article (Archive)