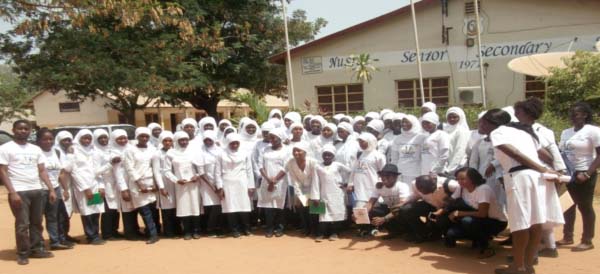 Safe Hands for Girls (SHFG) in partnership with Human Dignity Foundation (HDF) yesterday started a national school outreach to educate students on the health implications and effects of Female Genital Mutilation (FGM).
The school outreach which started at Nusrat Senior Secondary School in Bundung will be conducted in all regions of The Gambia; two days at each region.
The first outreach will be conducted in the KSMD followed by West Coast Region, Lower River Region, Central River Region, Upper River Region, North Bank Region and Banjul City Council, respectively.
The overall objective of the outreach is to enable students and the communities to understand the effects of FGM, and to also popularise the law on FGM through inter-school drama competition.
The event is expected to increase community awareness on the health complications of FGM and create awareness on the legal implications of FGM based on the recently enacted anti-FGM law in the country.
Specifically, after the outreach, students are expected to carry on the messages to their communities and try to influence their parents as well as peers on both the harmful effects as well as the presence of a law that criminalises FGM.
Maria Bass Gomez, senior nursing officer at Jammeh Foundation Hospital, said the risks associated with FGM need to be tackled and one way of doing so is finding solutions to remedy the harm.
"FGM increases the risk of HIV," Mrs Gomez said, adding that there is always a high possibility of transmitted diseases which will cause harm to the victims.
Maria Saine, law student of the University of The Gambia and programme coordinator of SHFG, said FGM is official banned and criminalised in The Gambia.
She noted that a law has been put in place and under the law, any person who is found guilty of practicing the act shall pay a fine of D50,000 and three years imprisonment.
"Anyone who failed to report culprits will also be held liable," the law student said while urging that students need to take it upon themselves to report anyone seen practicing FGM.
Lamin K Saidy, coordinator SHFG, said FGM is a total violation of a child's right as it affects the life and wellbeing of the child.
During the forum at Nusrat, SHFG officials acknowledged the crucial efforts of various civil society organisations and the government towards the total eradication of FGM in The Gambia.
Officials of the organisation said they see an end to FGM in The Gambia through the proper and uniform dissemination of information and proper sensitisation of communities and youth.
Having youth, especially school children, understand the health effects of FGM and its legal consequences in The Gambia will be a good start in ending FGM as envisaged in the campaign 'Ending FGM in a Generation'.
According to reports, education and ethnicity plays an important role on people who practice FGM.Women with no education are more likely to approve of the practice than their peers with secondary education.
Read Other Articles In Article (Archive)