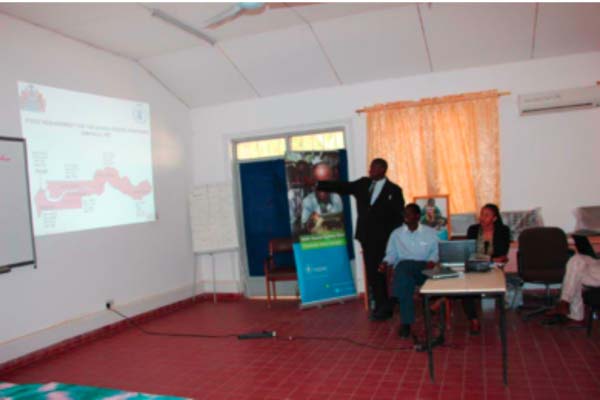 On Monday, a media sensitization forum was organized by the World Food Programme in collaboration with the Ministry of Basic and Secondary Education on the implementation of the school-feeding programme in the nation.
The forum was held at the Regional Education Directorate Office in Kanifing.
Speaking at the event, WFP country representative Victoria Ginja said the school-feeding programme has gone beyond the distribution of food to school children, adding that WFP is shifting from food aid to food assistance.
According to her, they are doing their ground preparation for government to take over the implementation of the school-feeding programme, thereby making it a homegrown school-feeding programme.
She urged the participation of smallholder farmers in the implementation. Instead of importing food commodities for the children, they should be fed locally-grown food, which would also generate income for local farmers.
She further urged local farmers to make efforts to improve their production and productivity, describing the school-feeding programme as a market for farmers.
She added that they are working together with the support of the EU to assist farmers.
According to her, the forum was also meant to introduce to the press the school-feeding programme in the country.
She cited the school-feeding programme as part of a multi-sectorial intervention with the ultimate goal of contributing to increase enrolment and retention.
The strategic partnership between WFP and MoBSE, she said, has become a model framework for collaboration and relationship building that WFP cites as a best practice in bilateralism.
"The commitment totaling $7 million to support school meals in LRR and West Coast regionsensures that we provide daily hot meals to more children who are equally in need," she said.
Ms Jinga added that the school-feeding programme is to promote equal access to education and learning by boosting enrolment, retention and completion rates; and the feeding programme increases the child's ability to concentrate and learn, as well as enhancing the child's educationalachievement by reducing hunger.
The meals also contribute to gender equality by providing special incentives for sending girls to school, she continued.
The permanent secretary MoBSE, Babooucarr Boye, said the sensitization forum was for all stakeholders to have a greater understanding of the homegrown school-feeding programme, and fully participate to ensure that healthy and nutritious food for school-feeding is available in all schools at all times.
He said the programme was designed to empower local farmers to benefit from the school-feeding market, and encourage improved production practices among small-scale farmers.
The event also witnessed a presentation on WFP's interventions in The Gambia, and on the general school feeding with the objective of establishing the foundation for a nationally-owned sustainable school-feeding programe.
Meanwhile, WFP will this week celebrate the international school meals day, which the WFP and MoBSE consider relevant to take advantage of in creating a better understanding of what the school feeding programme encompasses.
Read Other Articles In Article (Archive)