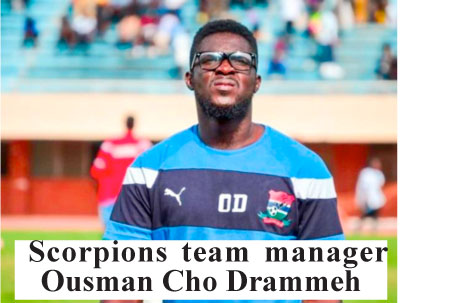 Ahead of the resumption of qualifying series for the Africa Cup of Nations in March 2020, Gambia Football Federation (GFF )is intensifying arrangements for its national team (Scorpions) when they take on the Panthers of Gabon away in France Ville in the first leg and at home in Banjul for the return fixture.

Scorpions team Manager Ousman Cho Drammeh confirmed that preparations have begun long time to put up arrangements ahead of the much anticipated fixture.
"We have started the preparations in earnest in terms of searching for the best travel routes for flight convenience as well as hotel accommodation both home and away".
He said Gambia Football Federation (GFF) in collaboration with the Ministry of Youth and Sports are both committed to meet the demands of the national team, adding that the importance of Gabon clash which can ultimately earn the Scorpions a place in the 2021 Africa Cup of Nations if they snatch all six points after the end of both legs.
He said as a national team every logistic worthy to help and accompany them is been looked into seriously to be part of the campaign.
"We have further put in place Visa and other essential logistics needed for this game and the GFF is at the forefront of every transaction", he noted.
Commenting on the recent scouting trip to Europe embarked on by Coach Tom Saintfiet and GFF President Lamin Kaba Bajo, Drammeh hailed the initiative as laudable.
"The idea is to meet with our European based Gambian players at their clubs and to further see the possibilities of bringing new faces to the squad to strengthen the team. This is a very good work plan in order to get the best available players for the country".
He thanked Coach Tom Saintfiet for the good work he is doing for the team registering unprecedented record for the national team.
"Tom has a routine where he monitor and visit the players at their various clubs in Europe and that is one way of motivation and encouragement where the players feel important and been part of the Coach's plans"
Since his assumption as national team Manager for the senior Scorpions in 2019, Cho Drammeh has been credited for meeting up the tasks assigned to him and the successful out and about assignments of the Scorpions and by extension all national teams.
BK Milan Chief Executive Officer (CEO) noted that the national team belongs to every Gambian and thus urged the general public to rally behind the Scorpions during this "most crucial" encounters against Gabon to be able to achieve the desired objectives.
Source-GFF
Read Other Articles In Article (Archive)