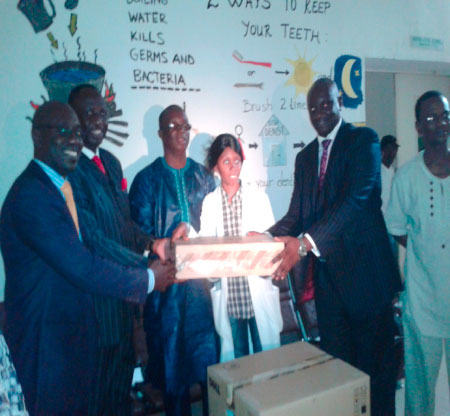 As part of its corporate social responsibility and, in particular, its contribution to the health sector, Trust Bank Gambia Limited yesterday donated six new computers worth D180, 000 to the Sulayman Junkung Jammeh Hospital in Bwiam.
Speaking at the handing over of the computers to the hospital at a ceremony held in Bwiam, Balla Garba Jahumpa, minister of transport, works and infrastructure, who was also former minister of health, said the donation was in response to a request made during a recent tour he made to Bwiam to meet the community-based medical program students, initiated by President Jammeh.
Community-based medical program students are recruits from their various communities to serve as community doctors.
According to him, the computers were requested by the students during his tour, after which he discussed with the Manager of Trust Bank Gambia Limited.
He noted that the other request that was also made was about their stipend, which he added has been increased by government from D400 to D1000, which effect from the end of August 2013.
Transport minister Jahumpa recalled that since 2007, Trust Bank has invested over D12 million into the health sector.
He commended Trust Bank Gambia Limited for its continued contribution to nation-building and called on others to emulate the Gambian bank.
Dodou Nyang, senior Manager Marketing and Sales at Trust Bank Gambia, said the bank does a lot of work in the health sector and will always continue to do more.
According to Nyang, Trust Bank works hand in hand with government in four key areas namely, health, education, disaster and sports.
He stated that this was the first time for the bank to visit Bwiam hospital thanks to the efforts of Bala Garba Jahumpa, who has and will always work on strengthening the relationship between Trust Bank and the ministry.
The new minister of Health and Social Welfare, Dr. Omar Sey, commended Trust Bank Gambia for the gesture, noting that it would go a long way in helping the hospital in its work.
He also lauded the minister Bala Garba Jahumpa for the initiative.
Kebba Badjie, Chief Executive Officer at the Bwiam hospital, said the day marked another symbolic milestone in the history of the hospital.
Giving a brief history of the hospital, Badjie said it started operations in 2003, and today it has supportive arms, which come from within the country.
He commended Trust Bank Gambia Limited for its support not only to the health sector, but all the other sectors in the country.
Read Other Articles In Article (Archive)