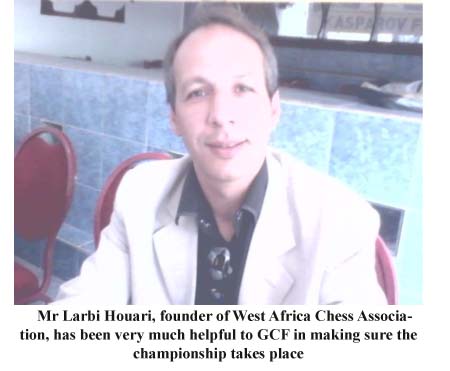 Larbi Houari, president of West Africa Chess Association, has expressed his readiness to help the Gambia Chess Federation (GCF) have a structure in place as well as handle the project of chess in schools.
Mr Houari, who was speaking to reporters on Friday, 28 February 2014 at the Badala Park Hotel during the opening ceremony of the Gambia Chess Federation Open Championship, added that he is in the country to listen to Gambia Chess Federation to know their problems and then advise them on how they can organise themselves as well as on how to provide money for them to keep some people working all year round.
He stated that he was positively impressed with the Gambia Chess Federation as well as positively surprised by many things such as the volunteers, their energy and wish for change as well as their support for Garry Kasparov and his projects in Africa.
He added that he was happy to represent Kasparov in The Gambia, noting that he will be personally involved in the change and development of chess in The Gambia, not only for chess players but also in schools.
"We have to develop chess in high-level play and low-level play," he pointed out, saying: "When I say low-level play it means from the very beginning for kids in schools because chess has proven its educational advantages for memories, strategies, concentration and many positive aspects of chess."
He remarked that they have many statistics in the African Kasparov Chess Foundation, noting that they are confident in that they can try to introduce chess in schools and then get the numbers and with the numbers they hope partners will be interested to help the Federation go ahead.
The GCF needs to be solid, he went on, saying: "We will help the Federation have a structure and to handle the project of chess in schools."
"We are thinking of a long-term project," said the founder of West Africa Chess Association, who added that "if you want to develop chess you need long-term projects - something during the year with schools and clubs."
The championship, fully sponsored by Kasparov, is an event dedicated to remind people that chess still exists in The Gambia, Mr Houari, a member of Kasparov Foundation, also said, adding that after the event they would start work in earnest.
The championship is not by way of developing chess but a kind of publicity for chess, he added.
He also said: "I am here to listen to Gambia Chess Federation's problems and then if I can advise on how they can organise themselves and how to provide money to keep some people working all the year; not from time to time because what kills the sport is non-continued process. So we have to make sure ones we start we work on it every day, week, month, year."
His relationship with the President of the Gambia Chess Federation is really good, he said, noting that they are like brothers.
For this reason, he is sure they will definitely have successful development of chess in the country, he noted, but was quick to add that they have to be patient because there is a lot of work to be done.
The giving of prizes to the players is a good encouragement (the winner of the championship will receive $600, second position $400, and from 3rd to 10th positions each $150), he observed, saying they need players to become actors in chess development.
"Players should not just play but also involve themselves in helping the Federation to extend chess, particularly in schools," he highlighted, calling on the players not to concentrate only on playing chess as it can serve as a full-time job for them (for example, arbiters, trainers and such kinds of jobs around chess).
Mr Houari, who is personally engaged in helping The Gambia Chess Federation to progress, added that he thinks the Federation has all they need but only need the first push.
"The first push Kasparov told me to come and listen to you and your needs to try to make a plan for long term," he revealed, saying they will give them the push to see that chess in The Gambia rise in different ways.
In conclusion he said: "I hope The Gambia will also have an influence in other neighboring countries."
Read Other Articles In Article (Archive)