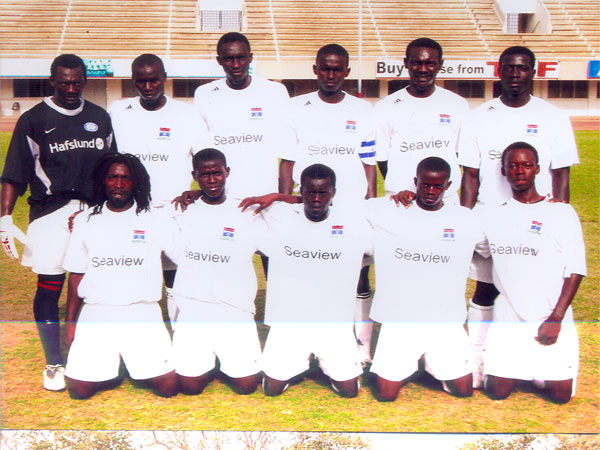 As the Gambia Football Association National domestic league enters its week 15 today Friday 23 May 2008. We expect to see the big names bounce back in the GFA domestic league.
In week 14 we witnessed very good encounters with the likes of Wallidan, Armed Forces, Hawks, Samger FC collecting very important points. Samger's win lifted them to second position with only a point behind the league leaders, Wallidan.
In week 15 fixtures Seaview will take on Armed Forces, today at the Sere Kunda East Mini Stadium. The Army Boys seem to be in form after their victory against Gamtel which is a good move for them after a series of games played without a win but will they maintain that momentum? Seaview looked very sharp in the opening of the second round. A goal less draw with Steve Biko beat Hawks in week 13 but Wallidan took revenge in week 14 by beating them 2-1. Seaview look intact and focused and the Army Boys need to be focused in the game if they want to collect the 3points.
 Hawks lock horns with the Security Boys of Interior, both teams are not new to each other as they meet in the first round with goal less draw. Hawks are in real form with a win in their last game against B/ United and will be looking to maintain that form. Interior play good football and the team is well organised. Their game last week with GPA was a clear manifestation that they can do it. But why is the team not winning games?  Hawks will be counting on the arrival of their defender Ken Jammeh which is a bonus to the team.
Samger will play Bakau United, the Academy Boys of Samger are still in the title race after a dramatic win over SaitMatty by 2-0 which saw them moved to second position 1point behind Wallidan. The Academy Boys have sent a great signal to the teams in the league that they are not only here to stay but to win the league. The Bakau giants are still struggling in the league. They lost their last game against the Red devil of Hawks by 2-1 so we expect them to bounce back and coach Tetawo Aziz Mendy, Head Coach of Bakau United, to work his magic.
Real de Banjul and the Telecommunication Boys of Gamtel. Real are dropping very important points in recent weeks after playing two games without a win and losing second position to Samger with a 2 point after drawing goal less with S/Biko in their last game. Gamtel lost to Armed Forces by 2-1 after poor goalkeeping by Christopher Allen which saw them dropping a very important point. They need to be focused as the City Boys of Real de Banjul will be very hungry to collect the 3 points to make sure they will close the margin with Samger and Wallidan.
Africell Sait Matty will play the Ferry Boys of GPA. It seems that the Ferry Boys will be coming up with a different system after the sacking of their head Ebrima Cham Joof Luckeh and Faraba Fofana has a big challenge to face, but the question is, is GPA a team in crisis? With only two wins since the beginning of the 2008 league season, they drew with Interior in their last game. Gamtel lost their last game too and it will be a very interesting game between these two teams. The new coach of GPA must win to reduce the pressure in the team.
Steve Biko and the Blue Boys of Wallidan. This will be an interesting game as both teams have the quality players especially in the midfield where young midfield players are to be found. Habib Kunta and Ousman Koli for Biko while Wallidan have the likes of Modou Lamin Sillah and Wuyeh Sey .We expect to see a good and beautiful game as both teams played good football but Biko still need to work in their scoring ability.
Fixture For Week 15
Fri: 23/05/08     Sea view  vs  A/force S/k East
Fri:  23/0/08      Interior Vs Hawks  S/k West
Sat:  24/05/08    Samger vs B/United S/k West
Sat: 24/05/08     Real vs Gamtel   S/k East
Sun:  25/05/08 Africell S/matty  Vs GPA
Sun: 25/05/08 Steve Biko  Vs  Wallidan
Read Other Articles In Article (Archive)