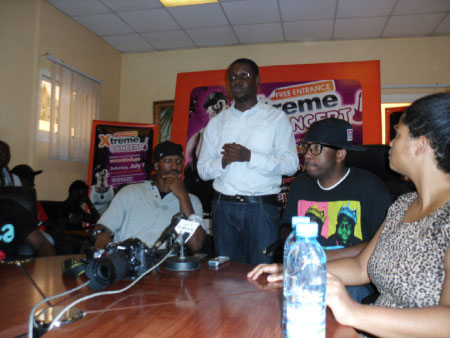 As part of the celebration marking the United States independence, celebrated annually on 4 July each year, the US embassy in Banjul, in partnership with Africell, will be staging a mega concert at the Independence Stadium where the US hip hop star and some locally-based musicians will thrill lovers of hip hop.
"This special month we will bring American artistes to The Gambia to interact, entertain and inform," officials at the embassy said prior to the press conference held at Africell's office on Kairaba Avenue.
The embassy, in partnership with Africell, has already brought southern rapper Epiphany to do an educational programme at schools and to work with local artistes.
There will be a free concert at the Independence Stadium to showcase this uniquely American art form and to foster partnership and mutual understanding between The Gambia and the United States.
The press conference brought together organizers of the mega concert, local artistes, promoters and music producers.
The hip hop star, whose real name is Chane but commonly called 'Epiphany' Morrow (alias Big Piph), is in town along with his music promoter Donrae Vinson, aka Ferocious.
Peter Brima of Africell welcomed the two guest artistes from the US before elaborating on their mission to The Gambia.
The partnership between the US and Africell Gambia has brought the two artistes as part of the US Independence and the official launching of Africell website.
Tula Orum, public affairs officer at the US embassy, also informed Entertainment that the coming of the two US artistes is part of the US embassy's Independence celebration.
Tula welcomes all to attend the concert that will be a mixture of Gambian music and US hip hop to have fun.
 Chane 'Epiphany' Morrow, the visiting US artistes, thanked the US embassy for choosing him among a lot of artistes to conduct a concert in The Gambia.
Epiphany, who will be working with local artistes, said he hopes to give all his best on Saturday at the stadium.
"I am looking forward to working with students and Gambian artistes," he said. "What I have learnt from the States will be used here in The Gambia.
"I also want to learn from my colleagues, the culture and the people."
"I love what I do and I care about music, the people. I like to sing with people; put good things and rock the night Saturday," Epiphany, whose hip hop music has sent out messages about social vices, said.
Epiphany's producer, Dondrae Vinson, is also in town to speak about his impression to visit The Gambia.
"I'm excited and overwhelming to be here,"he said, adding: "I look forward to the show."
Read Other Articles In Article (Archive)