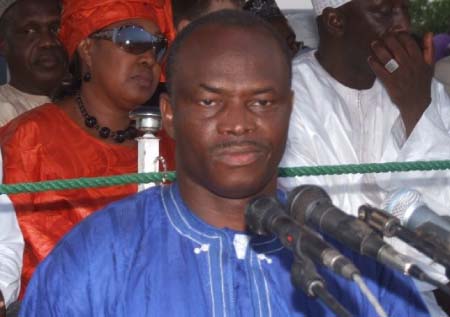 The Governor of West Coast Region has predicted a landslide victory for the ruling Alliance for Patriotic Reorientation and Construction (APRC) in the forthcoming National Asembly elections slated for 29th March this year.
Lamin Sanneh, who spoke in a brief interview with this reporter at the weekend, opined that the results of last November's presidential polls should serve as an eye opener and a lesson for what he described as fragmented opposition parties in the country as to what they should expect.
The Independent Electoral Commission, IEC, has scheduled the next parliamentary elections for 29th March 2011.
A statement from the Commission said last week that nomination of candidates will take place at the IEC regional offices across the country from Thursday 8th to Saturday 10th March 2012.
Campaigning, according to the IEC, will commence on Wednesday 14th March and end on Tuesday 27th March 2012.
"I think already we've got the signal based on the results of the just-concluded presidential election held last year. Anytime APRC comes in, there is improvement and this was manifested with the President winning in all the constituencies across the country," Sanneh told this reporter.
He predicted that come 29th March, the ruling APRC party will win all the seats in parliament with victories all over the country.
Being in the opposition, he said, must be accompanied with a genuine reason, noting that the APRC as since 1994 demonstrated its commitment to nation-building.
In his view, the opposition unlike the APRC has no justification in being an opposition, and do not have the interest of Gambians at heart.
"Come 29th March, it will be a clean and clear win for the APRC because the leadership of the party has put the development of the country and the interest of Gambians on top of its priorites," he stated.
Governor Sanneh also promised that his region will give the president all the support in the coming NA polls as they did in the presidential election.
"Gambians and even non- Gambians know what the President has done and continues to do for this country. He has been working very hard to improve the livelihood of Gambians in the fields of education, health and agriculture, among others," Sanneh added.
The West Coast Region Governor also told this reporter that for the next five years, Gambians will see massive improvement in job opportunities, food self-sufficiency and a quality and affordable health care system.
It is worth noting that out of a total of 53 seats in the National Assembly, the ruling Alliance  for Patriotic Reorientation and Construction has 47 of which 5 are nominated MPs.
The opposition United Democratic Party has only four seats, while the National Alliance for Democracy and Development has one seat, and one seat is held by an independent candidate.
Read Other Articles In Article (Archive)