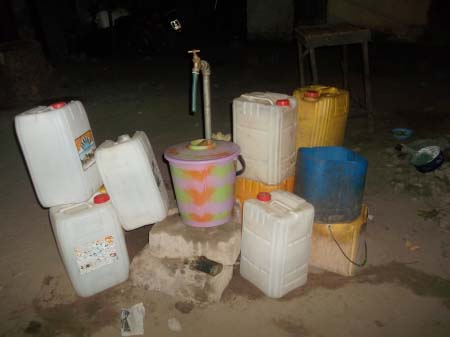 The protracted perennial water problem in Bundung has further worsened within the past two weeks.  Residents lamented that they now have to wake up after 3am to fetch water; sometimes even at this time there is not water at the taps.
The residents are crying for the help of the National Water and Electricity Company (NAWEC).
Sainabou Njie, a Bundung resident and a mother of four, said for the past two weeks, life has become "extremely difficult" for them because they hardly have water for household needs.
Residents said the water conundrum has been in Bundung since early 1994.
"The problem has never been addressed even though the situation has been brought to the notice of Nawec," the house wife said.
Sainabou said the situation has become worst now because taps hardly have water.
She explained that they hardly have enough sleep for almost two weeks because the taps only have water around 3am or 4am; sometimes there is no water at all.
"Sometimes, the kids do not even take bath when going to school for there is no water.  My elder son always finds it difficult to take bath before leaving for work," the housewife said.  "To be frank, we are really tired of this now."
Bintanding Sanneh, a nursing mother, said she did not think the water shortage will ever stop.
"This has been something in Bundung for many years now and a lot of complaints have been made about it but nothing comes out," she bemoaned.
She said for the past two weeks, most of the time taps only have water very late at night and usually by then she is pampering her two-months-old baby.
"Really, having water has become a burden in Bundung," she said.
Read Other Articles In Article (Archive)