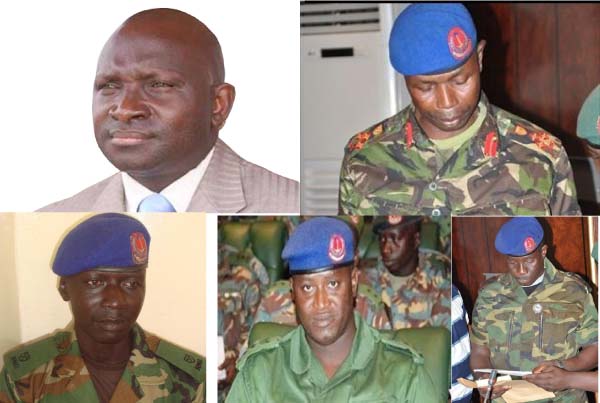 The following people are wanted by the Gambia Police Force to face justice for the atrocities they have allegedly committed during the regime of Yahya Jammeh.

The police prosecutors have secured an arrest warrant for: Ousman Sonko, former interior minister; General Sulayman Badjie; Colonel Solo Bojang; Major Sanna Manjang; General Bora Colley; Colonel Kawsu Camara alias 'Bombardier', and Major Nuha Badjie.
The police obtained the warrant following an application at the Banjul Magistrates' Court, presided over by Isatou Janneh-Njie, for the arrest of the seven men who are all said to be out of The Gambia at the moment.
Ousman Sonko
He is a former Interior minister in the Yahya Jammeh regime. He has been accused of overseeing brutal human rights violation and committing heinous crimes during his heydays in the Jammeh-era.
General Saul Badjie
He was the Republican National Guard Commander and one of the strong loyalists of Yahya Jammeh. He was said to be the most feared guy in the army.
Major Sanna Manjang
He is the most infamous member Yahya Jammeh's assassin team called the 'Jungulars' who carry out covert operations to kidnap, torture and kill for Jammeh.
Colonel Solo Bojang
He is former commander of the state guards stationed at Kanilai, the home village of Yahya Jammeh.
General Bora Colley
He is former Kanilai Camp Commander who had been accused of committing so many extra-judicial killings for Yahya Jammeh.
Read Other Articles In Article (Archive)