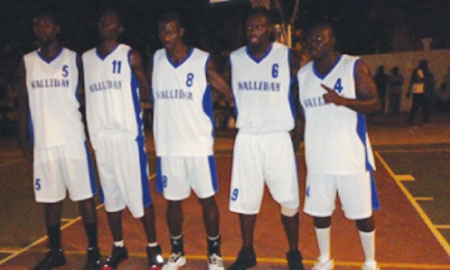 Wallidan Basketball team were crowned champions of the Mayor Samba Faal Basketball tournament on 2 June 2012, after beating Brikama Basketball team 24-17 in a controversial final at Manneh Sillah Memorial Basketball Courts in Banjul.
After entering the second set of the game, supporters and the coach were seen displaying at the edge of the court near their bench and going up to meet  the match officials.
Speaking to the press, the coach of Brikama said the referee red carded a player who was not supposed to go out because to him it was not a red card but a caution.
According to the coach, either the player would not go out of the court or the whole team would leave. The push and pull took about 25 minutes before the Wallidan team came into the court, whilst Brikama insisted that if the said player was going out all would go out because he was a key player of the team.
In his ruling, the referee decided to give victory to Wallidan, and as champions Wallidan went away with a trophy and D8,000, whilst Brikama Basketball team went home with nothing.
In the female category, Banjul beat Armed Forces in a thrilling encounter. Serrekunda West and the YMCA ended 22-23 in favour of the YMCA. The YMCA used experience against their opponents at the second set of the game, whilst Serrekunda West wanted to defend their lead.
The YMCA received D4,000, and Serrekunda West received D2,000.
The secretary general of the association, Jallow, thanked all those who took part in the tournament as well as those who contributed towards its success.
He commended the Gambia National Olympic Committee, the main sponsor of the tournament, for its "wonderful support" to the association.     
Read Other Articles In Article (Archive)