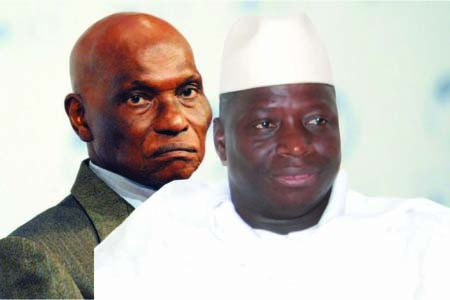 Senegalese President Abdoulaye Wade yesterday ended a one-day working visit to The Gambia with calls on his Gambian counterpart, President Yahya Jammeh, to help intervene in solving the conflict in neighbouring Casamance.
President Wade was met on arrival at the Banjul International Airport by President Jammeh, and they later held talks at the Coco Ocean hotel in Bijilo.
Announcing his mission, President Wade said he was on a brotherly visit to The Gambia to seek President Jammeh's intervention and assistance in solving the conflict in Casamance.
"I have done my part to end the crisis, but to no avail. Senegal and Gambia are one people and that is why I want my brother, President Jammeh, to intervene so that there will be peace in Casamance," Wade declared.
According to the Senegalese leader, some of the rebels who have already laid down their arms in Casamance want to engage in projects, but cannot do so because of the continuing crisis.
"So I want your intervention to bring peace in Casamance," Wade told his counterpart.
Wade further called on President Jammeh to extradite any Senegalese national, who has committed a crime in Senegal and fled to the Gambia, for the sake of peace, noting that this can only be done through the cooperation of the security forces of both countries.
Wade further told President Jammeh to send Gambian security forces to Senegal, when Gambians commit crimes and run to Senegal.
"If you know that they committed crimes and run to Senegal, just send your security forces so that we can work together trace them out so that they can be extradited" he added.
President Jammeh in response assured Wade of his readiness to intervene in solving the crisis in Casamance. He added that this can only start after the holy month of Ramadan.
"Solving the crisis in Casamance is in the best interest of the two countries. Gambia will never be a safe haven for Senegalese dissidents," he assured Wade.
Read Other Articles In Article (Archive)