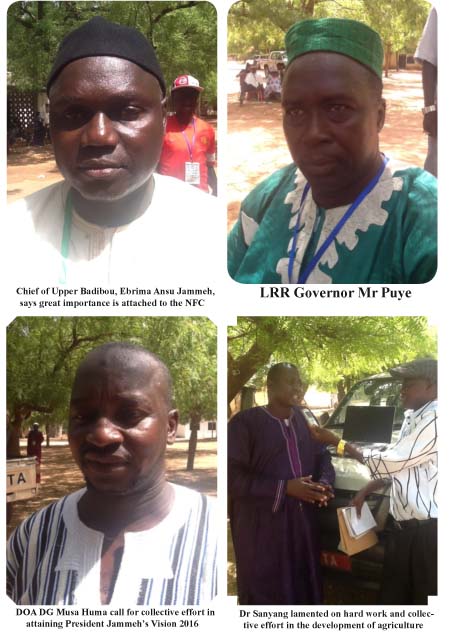 The National Farmers Conference (NFC), funded by the West African Agricultural Productivity Programme (WAAPP), under the Ministry of Agriculture to the tune of $50,000 (equivalent to D2 million) recently ended in Farafenni, North Bank Region.
The forum also served as a golden opportunity for farmers to come together to share their experiences, challenges, prospect, resolution, issues affecting them and chart a roadmap in improving agricultural production and productivity in the country.
Speaking to The Point, the Regional Agricultural Director, North Bank Region, Dr Saikou Sanyang, expressed delight to be associated with the farmers conference, saying it was one of a kind for farmers to be given the ownership to organise very important forum like the recently concluded one.
The forum was aimed at farmers coming together to share their experiences and to see what was possible for agricultural development, Dr Sanyang said.
Regarding the importance attached to the farmers conference, Dr Sanyang said that at the end of the forum, farmers would be able to know all about agriculture, documents that were supporting agriculture and their role and responsibility in contributing to agricultural development.
He advised the farmers to listen to extension workers closely working with them, seek advice and adopt it if considered vital, and make better use of it, so they could register more improvement in agricultural produce.
The WAAPP supporting forum was magnificent and beyond recognition, he said, calling on other project managers to emulate WAAPP, so they could also realise optimal result and benefit.
He also used the opportunity to thank WAAPP for their effort in trying to empower farmers by giving them fertilizers, training and other necessary technology they could use to boost their agricultural productivity.
Ebrima Ansu Jammeh, Chief of Upper Badibou District, said the conference was very timely and has remained to serve as a constant reminder on achieving Vision 2016.
"So bringing farmers together, especially in large numbers, was very important," he added.
He appealed to farmers to work hard to achieve the President's Vision 2016, saying the entire chieftaincy had started the campaign on the President's Vision 2016.
Madam Yassin Khan, acting Coordinator of WAAPP, described the national farmers conference as a very important forum as it serves as a nerve centre for farmers meet and articulate issues of great concern, discuss them to come to terms and agree on right steps to take to improve agriculture in the country.
Farmers are the most important and critical stakeholders in the development of agricultural sector, he also noted.
Regarding WAAPP, Madam Khan said WAAPP is about improving productivity along the value chain and focusing on some specific commodities, adding that WAAPP is always willing to support farmers at any level to ensure they maximize better yield.
She also urged farmers to continue working hard and not to see farming as only a means for subsistence; rather it is to take it from a food-based to economy-based resource, thus people should see farming as a business.
She said this could only be done through introducing technology sharing and best practices, which are geared towards increasing yield.
She said increasing productivity is not limited to production; it also has to be along the value chain, adding that producers should be able to gain more and even consumers should be able to get more in terms of health benefit from the food products people are consuming.
She seized the opportunity to thank the Government of The Gambia under the leadership of President Jammeh through the minister of agriculture, who has been in the forefront in the implementation of WAAPP.
She maintained that the farmers are the most important stakeholders by the way and their inputs in the implementation of WAAPP was fundamental and had been forthcoming.
She added that the innovation platform was able to increase yield in specific areas in the country by more than 100 per cent, which was a significant milestone towards the achievement of Vision 2016.
Regarding the level of WAAPP's readiness in provision of fertilizers to the farmers, she responded that it was not only about WAAPP, but they also have another project called GEAPSP2; both projects are vigorously working very hard to ensure farmers have access to quality seeds and fertilizers.
She said the two projects also trained farmers on best practices that would help them increase yield, adding that all mechanisms and structures required to boost the farmers' production are in place.
Madam Khan also said with the collaboration of various stakeholders they "are very optimistic that the agricultural sector is moving" and would be at a "favourable" stage "in the very near future" come 2016.
She also advised the farmers to not only see agriculture as a means from hand to mouth, as it goes beyond that; it is in actual fact the central resource for improving the national economy, when taken from the stage of subsistence to commercialization.
Read Other Articles In Article (Archive)