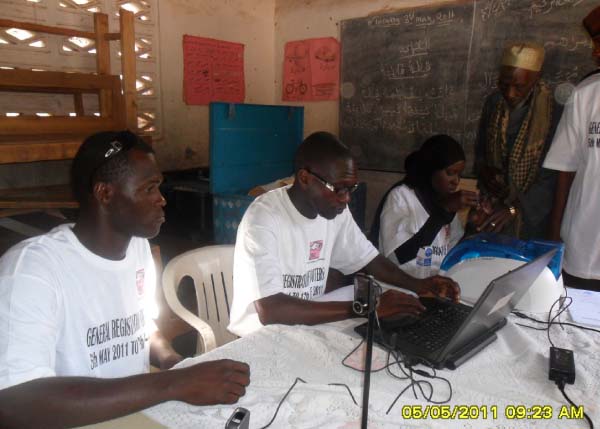 The Independent Electoral Commission has intensified a nationwide voter registration exercise ahead of the scheduled presidential, parliamentary and local government elections, with reports of a high turnout in some parts of the country and low turnout in some other parts as well.
The exercise, currently underway in over 600 registration centers across the country, is targeting over 800,000 eligible Gambian voters from the ages of 18 and above.
Conducted with the use of a new computerized voter registration system, as opposed to the manual registration of voters, the six-week exercise, which started last Thursday, comes a decade after the last voter registration exercise held in 2001.
In the Central River Region, our correspondent reported a huge turnout of people including men and women, who queued for hours to get registered.
"I have been here since 9 am and I'm still waiting to get registered because my voter's card is my voice, and it gives me the right to vote and choose my leader," Mariama Jaw, a 27-year-old woman told our correspondent in Bansang.
In Fula Bantang, also in the Central River Region, turnout was said to be very low with a few villagers, mainly youths, joining queues to be registered.
"As a Gambian, it is my constitutional right to get registered and vote to choose our leaders, and that is why I am here since in the morning," Alpha Jallow, a 23-year-old native of Fula Bantang said.
Also in Jangjangbureh in the Central River Region, turnout was reported to be getting better day by day as more people use the weekend to join queues, so as to get registered.
All political parties are represented by party agents at the registration centers, our correspondent said.
In Sukuta in the West Coast Region, a team supervisor at the Sukuta Arabic School, Buba Daffeh, told our reporter that as of last Friday, they registered a total of 254 voters.
"Really the first day was very poor in terms of turnout, but as you can see, more and more people are coming to be registered," Daffeh said.
Momodou Cham, a native of Sukuta, who was waiting in the queue to get registered, said the acquisition of a voters card is a requirement for every eligible Gambian voter.
"Without your voter's card, you cannot cast your vote," he said while calling on all eligible Gambian voters to come out and register so that they can vote for their candidate of choice.
At team 24 located at Nusrat Senior Secondary School in Bundung, team supervisor Ms. Aji Ngoneh Gaye told our reporter that as of last Friday, a total of 340 voters were registered.
"So far, we are yet to encounter any problem. Everything is going on fine with my team, and people are coming in their large numbers to register" she said.
One Ousman Gibba, a man in his 20s told our reporter that it is his right to get a voter's card because, as he put it, it is a constitutional right and a way in making his voice heard in the way and manner in which this country is governed.
He called on his fellow youths to come out in their numbers and register for the forthcoming elections, noting that it is an opportunity for them to make their voices heard.
At the Bundung Central Mosque, team supervisor Alagie Kanyi stated that, as at last Friday, his team registered over 400 voters.
"Turnout for the past few days is perfect, unlike the first day, which was not impressive," Kanyi told our reporter.
Read our subsequent issues for more on the nationwide voter registration.
Read Other Articles In Article (Archive)