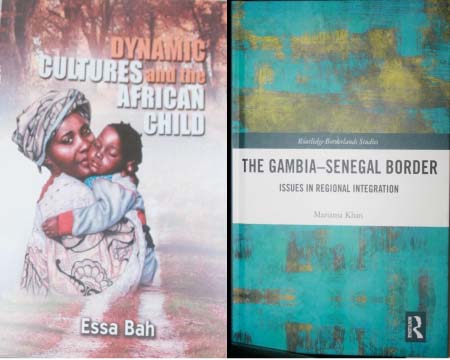 Two Gambian writers, Mariama Khan and Essa Bah, in collaboration with the Writers' Association of The Gambia (WAG), Saturday launched their new books title: The Gambia-Senegal Border: Issues in Regional Integration and Dynamic Cultures and The African Child.

Launching of these latest works was held at the Gambia Tourism and Hospitality Institute (GTHI), in Kanifing.
The Gambia-Senegal: Issues in Regional Integration was written by a Gambian scholar and University don Mariama Khan. The 225-page book was published by Routledge and reviewed by Lamin BT Sanyang.
Mariama Khan, who is currently teaching history at Lehman College, New York had earlier published many works on aspects of Gambian literature, proverbs and film.
The Dynamic Cultures and The African Child, written by Essa Bah, is a 70-page book published by Fulladu publishers and reviewed by Cherno Omar Barry, President of Writers' Association of The Gambia.
Essa Bah is a police officer with the Gambia Police Force and works in the Gender and Child Protection Unit. His first published novel is entitled Mission Accomplished.
In general overview of the two books, Hassoum Ceesay, historian commended the two authors for their works.
On the book titled The Gambia-Senegal: Issues in Regional Integration, Mr Ceesay said it stands out from the rest on Senegal-Gambia relations as it focuses on the role, fate and experience of the small people in the relations between the two brotherly countries.
He commented on the book, saying, "Previous studies had put much emphasis on the role of politicians in forging the links between the two countries. Here, Ms Khan taps into a new vein by putting at the centre of her study the daily experiences of men and women who lived along the borderlands of The Gambia-Senegal or who cross through the border on a daily basis in pursuit of trade, commerce, education or family relations. This is a new addition to Gambian-Senegal studies."
On the second book written by Essa Bah, Mr Ceesay said the book will take readers back to real African culture and tradition before the colonisation.
He noted that the author has shown his concern in terms of unit and development of Africa, and urged everyone to have the two books in their shelves because they are both valuable and important.
Read Other Articles In Article (Archive)