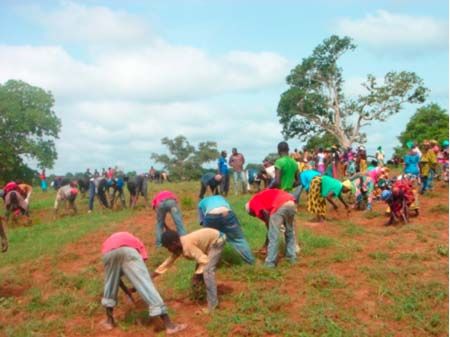 Volunteers from across the village of Barrow Kunda in Wuli West District of the Upper River Region recently took part in a weeding exercise of a 4-hectare coos farm of Beakanyang Kafoo, in the village.
The weeding exercise attracted about 200 volunteers including men and women who were entertained by famous drummers from Sinne village in Senegal.
The drummers said they responded to the invitation of the group because they had enjoyed a long time cordial ties with the community.
Speaking on the occasion, Kawunding Danjo, the farm manager, expressed his happiness about the high turnout and the good job done by the volunteers.
He expressed hope that when it continues to rain as expected, they would have a good harvest from the farm.
He thanked the leadership of Beakanyang for providing the farm with fertilizer, which he said would boost their yield.
Addressing workers at the farm, Beakanyang secretary general Nfamara Jawneh said it was a pleasure for him to attend the event.
He thanked the people of Barrow Kunda for helping the organization to realize its objectives while stressing that for the country to attain food self-sufficiency, every community should participate in farming.
Mr Jawneh disclosed that if everything goes well as anticipated the proceeds of the farm would be given back to the community in a form of new projects.
"My office and I are not interested in one single dalasi from this farm," he said.
He urged members of the community to report any cattle encroachment onto the farm in order for his office to take the necessary legal action against the owners.
"Farming is very painful in this part of the country in particular and we cannot allow careless cattle herders to threaten our livelihoods anymore," he emphasised.
Read Other Articles In Article (Archive)