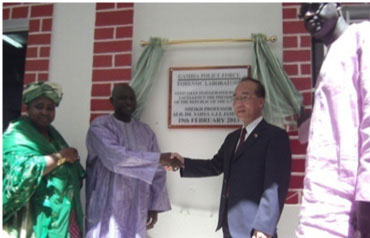 The Government of the Republic of China on Taiwan (ROC) has provided the Gambia Police Force, GPF, with Forensic Science Laboratory, equipped with state of the art equipment.
The lab, which is the first of its kind in the country, was on Tuesday 19th February 2013 officially inaugurated at the Police Head Quarters in Banjul, by the Vice-President, Dr Isatou Njie Saidy.
The inauguration of the lab formed parts of activities marking the celebrations of the 48th Independence Anniversary of The Gambia.
The laboratory is also furnished with an automated finger printing machine system.
The laboratory seeks to assist the GPF in combating crime and other unlawful activities, such as drug peddling for the enhancement of social stability and security.
It also seeks to complement the services of the 'Operation Bulldozer initiative' in the quest of keeping crimes at bay in the country.
Speaking at the occasion, Vice-President Njie-Saidy, said the use of Forensic Science Laboratories in crime investigation has revolutionalised the nature of investigation.
She said in order to successfully contain the growing menace of crime, equipment, such as the ones provided by the Taiwanese government are essential.
"The government of Taiwan has done its part by providing this very expensive equipment to the Gambia Police Force and also training personnel in their use. It is now left to the Inspector General of Police and his team to ensure their proper maintenance and sustainability," she stressed.
She used the opportunity to thank the government of Taiwan, through its Banjul embassy for its support in the development of The Gambia.
For his part, Samuel Chen, Taiwanese ambassador to The Gambia, described the establishment of the Forensic Laboratory as an achievement for The Gambia government.
"It was when H.E. President Jammeh visited Taiwan's Central Police University in April 2009 and expressed his desire of setting up a modern forensic science laboratory in The Gambia. Hence, the project was launched and up to now it has been implemented for over two and half years," he said.
Ambassador Chen expressed hope that the scientific system will help the Gambia Police Force increase its crackdown on criminals, adding that national security is paramount for the development of any nation.
Ousman Sonko, Minister of Interior, said the facility would be a useful arsenal in The Gambia's fight against crime.
According to him, the facility will enhance the capacity of the GPF crime unit and support criminal investigation in general.
He then reiterated the need for the public to help the police in addressing crimes by reporting criminals instead of harbouring them.
Read Other Articles In Article (Archive)