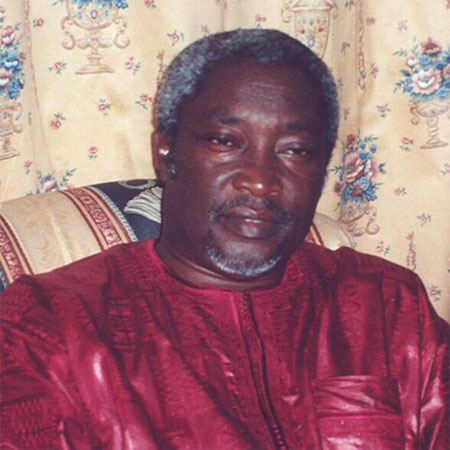 Omar Jallow, alias OJ, the current leader of People Progressive Party (PPP), the erstwhile former ruling party and also an Executive Member of the NADD alliance, has said that there cannot be any genuine and sustainable democracy without a free and vibrant independent press. Mr. Jallow observed that the playing field for journalists in The Gambia is not the least level. He therefore called for what he said a serious improvement in The Gambia to have a vibrant and independent free press. Mr Jallow was speaking in an interview with this reporter last Tuesday at his Pipeline residence.
When asked about the political climate in The Gambia, the former Serre Kunda East Constituency parliamentarian in the first republic said that there's much to be desired regarding the present political situation in the country.
"There is much more to be desired in the present political situation of The Gambia, as conditions agreed within the MOU brokered by the Commonwealth between the political parties is being violated daily", he said.
"The Independent Electoral Commission can only be impartial and independent if all stakeholders have a say in the establishment and functioning of the commission", he added.
On formation of a new political party, The Gambia Moral Congress (GMC), Mr. Jallow said the formation is timely and welcome.
He said: "I welcome Mai Fatty and his new political party into the political field of The Gambia. I wish him well to help support the democratisation process of The Gambia. As a young and determined lawyer, we expect him to serve to the maximum in achieving these goals."
For OJ, all opposition parties should work together as colleagues and partners to increase and expand the democratic space and civil liberties in The Gambia so as to create a level playing field which will usher in a free, fair and transparent elections in 2011.
He called on Mai Fatty to do all within his limits and plans from now until 2011 to bring all the opposition parties together so that the noble objective of bringing about change in The Gambia in the forthcoming elections.
Quizzed on the future of the opposition parties in The Gambia, the veteran politician said that it is clearly accepted and understood by all opposition parties in The Gambia that they can only have a desired impact and effective score if they seriously consider putting their heads and materials together, hence forming an alliance.
"We as opposition leaders should live up to the expectations of the people. They trusted us and have a lot of hope in us. We must strive hard and bring them the desired development."
He concluded by calling on the people to come all out to vote come 2011 elections.
"It is your citizenship right and civil duties to vote and choose whom you prefer to lead," he said.
Read Other Articles In Article (Archive)