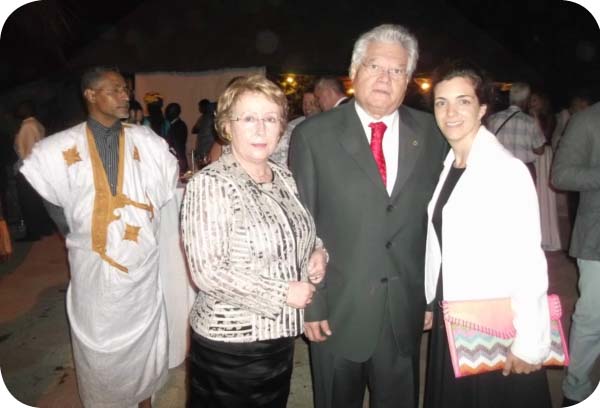 Officials of the Venezuelan Embassy in The Gambia Sunday commemorated Venezuela's independence in form of a reception at a hotel in Kololi.
Venezuela regards 19th April as "Firma del la Independencia" as it was that day in 1810 the country became semi-independent from its colonial masters, Spain.But it was not until 5 July 1811 when Venezuela attained full independence.
The celebration of 19 April in The Gambia was attended by the Gambia government officials, international partners, former Gambian students to Venezuela, friends, families among others.
Venezuelan Ambassador to The Gambia Eduardo Medina Rubio recalled that his country's independence "did not come easily".
He said the Venezuelan fight for independence was part of a series of related emancipation movements throughout Latin America.
Gambia-Venezuela relations
The Venezuelan Ambassador to The Gambia said the two countries established diplomatic relations in 1974.
He said the bilateral relations between the two countries have however been on higher pedestal since 2006.
Ambassador Rubio said that since 2007, Venezuela has received more than 160 Gambian students in different areas of academic training in higher education.
He said the embassy under the "support a school in Africa" programme of the office of the vice minister for Africa, has provided school supplies to students, teachers and schools.
He said 34 Gambian children have been operated successfully in the children's cardiac hospital in Caracas, Venezuela, with financial assistance from Venezuela.
He said the National Assemblies of both The Gambia and Venezuela have already approved important agreements for cooperation in the areas of transport and civil aviation to establish direct flights, Caracas-Banjul and Banjul-Caracas.
The diplomat said the areas of cooperation include the fields of energy, tourism, health, culture, agriculture, tax and customs matters and a memorandum of understanding on information and communication.
Ambassador Rubio said further that Venezuelan President Nicolas Maduro understands the need to establish cooperative relations with the countries of the south and particularly with African countries to support and develop activities of mutual interest as equal partners.
Read Other Articles In Article (Archive)