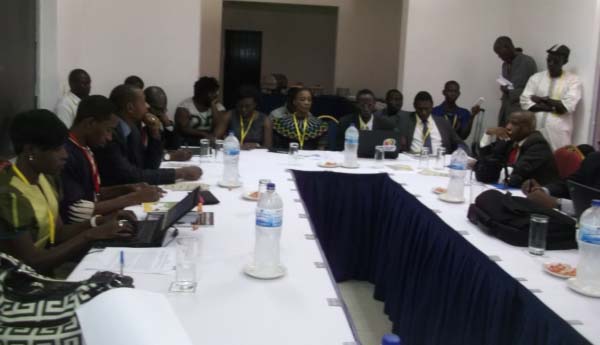 The State of The Union (SOTU), a coalition of civil societies and NGOs in Africa, on Tuesday organised a panel discussion to reflect on strategies to develop the adoption of African Union legal instruments by citizens instead of member states.
The panel, held at a hotel in Kololi, also discussed how African citizens could push, through active participation, their governments to ratify, actualise and implement AU legal instruments effectively.
The panel was on the theme "Making of the African Union of States an African Union of Citizens and Peoples". 
It was held on the sideline of the 56th ordinary session of the African Commission on Human and People's Rights underway in Banjul and was attended by delegates from various African countries.
Abubacarr Mboge, SOTU focal person, said the African Union has elaborated outstanding legal instruments to protect and promote human and peoples' rights.
The Union also has a number of protocols and guidelines on democracy, governance, corporate responsibility, and the preservation of nature and natural resources.
"Up to date, about 44 AU protocols to the African Charter for Human and Peoples' Rights have been to member states for ratification and implementation," he said.  "Unfortunately, many AU African states failed to ratify these instruments."
Mr Mboge said that even among those who did so, some did not incorporate the protocols in their national legislation, making them useless. 
The African civil society denounces regularly the AU instruments and policies, saying they are not being domesticated.
It has therefore resolved to advocate for the effective implementation of these instrument.
According to SOTU focal person, the coalition is firmly committed to popularising the relevant AU instruments that still remain powerful tools of protection but which impact is mitigated because of not being operational for the reasons that member states had not ratified them.
The Rules of Procedure of the Assembly of AU Head of States have it that the Assembly has to do the monitoring of the implementation of policies and decisions of the Union and ensure compliance by all member states.
But SOTU said if there is not a good appropriation of the AU Rules of Procedure by the African citizens themselves, AU member states "will lavishly ensure compliance and respect of their obligations vis-à-vis the AU legal instruments".
In this vein, SOTU now proposed to make the African Union an African Union of Citizens and Peoples. 
Mr Mboge said: "If we want to boost the slow incorporation of AU protocols, decisions and guidelines by AU member states, we have to set the debate within our communities and citizens on the challenges of democracy, governance, and development through the achievement of social, economic and cultural rights and the importance of their participation at national and Pan-African level as well."
Read Other Articles In Article (Archive)