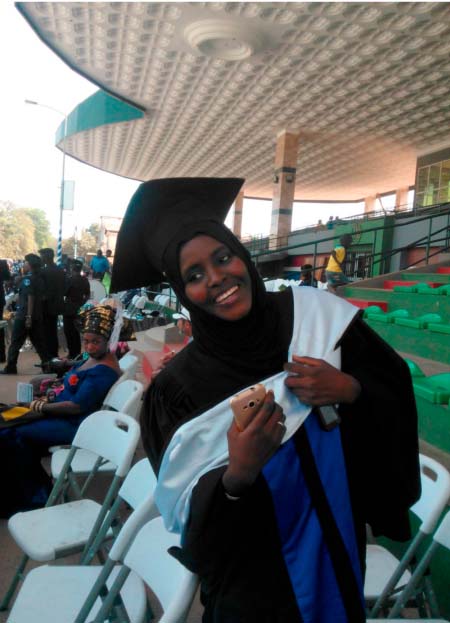 My hope is that this address will exactly represent some of the many experiences we have had, the impact the UTG has had in transforming our lives; I equally hope this address will be able to do justice to the great efforts and sacrifices we have made in this academic journey.
I believe each one of us here graduating took our first step in pursuing our dreams when we decided to enroll in the University of The Gambia. We spent time in this institution developing our knowledge in our different areas to make our dreams a reality. Every graduate here deserves great recognition and praise for the work they have done. Today we have completed the great chapter we started years ago and are ready to embark on a new one.
We had to sacrifice our other social engagements to do our academic works.
As my Dean, Prof Pierre Gomez, would always remind us, education is the road to freedom. Victory does not come without sacrifice and there is no gain without pain.
Having made it to the finishing line, we have become ambassadors of hope and change. I call on you all to live up to the UTG's pledge of excellence, of social and professional responsibility and above all, live to fulfill our institution's motto of "Knowledge, Truth and Development". The University of The Gambia, has always served as a bastion of academic excellence for all of us.
The University of The Gambia, the country's citadel of learning, was built with the ultimate aim of transforming the lives of many Gambians as well as the country's socio-economic trajectories.
Today, we are proud to have built a university together that has and continues to produce graduates in Political Science, Development Studies, History,  English Language, Islamic studies, French Studies,  Agriculture, Environmental Sciences, Education, Economics, Management, Accountancy, Public Administration, Tourism and Hospitality Management, and Banking and Finance.
Today, not only is the UTG proud to have produced graduates in these areas who occupy the country's labour market for the realization of meaningful and sustainable national development, but proud to have produced graduates who are shining in top universities around the world.
Fellow graduates, you will all agree with me that universities all over are built on the core values and principles of knowledge production and dissemination through research and service to society. The UTG, I am proud to say, is doing just that. We must therefore, and at all times, be guided by the principle of service to society and humanity. 
Chancellor Sir, as the UTG graduates over a thousand students in different areas today, I can safely say there is hope for this country.
Finally, to the continuing students, always be guided by the principles of dynamism, hard work, commitment and determination for these are the tools for the successful completion of any task in life.  Always be obedient to your lecturers, HODs, Deans and other university authorities and you will certainly reap the benefits. All of you have the potentials to achieve greater goals. Never relent in your efforts to realise your goals.
Read Other Articles In Article (Archive)