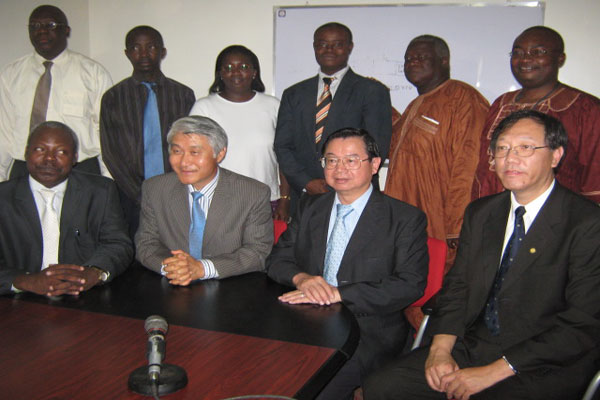 The University of The Gambia (UTG) and the Ling Tung University of Taiwan yesterday signed a Memorandum of Understanding (MOU) known as academic cooperation agreement at a ceremony held at the UTG administrative building in Kanifing.
The landmark event was attended by the head of Taiwanese diplomacy in Banjul, two visiting professors from Taiwan and senior administrative staff of UTG.
Speaking on the occasion the Vice Chancellor of UTG, Professor Ousman Nyan, applauded the LingTungUniversity for the move thus acknowledged the support UTG continues to receive from the Embassy of Taiwan. "This is a move for togetherness and friendliness" he said. He informed the gathering that The Gambia, and UTG in particular, has a lot to offer to LingTungUniversity through cultural exchanges.
For his part, the Taiwanese ambassador to The Gambia, His Excellency Richard Shih, said that LingTungUniversity is a well-known and reputable university in Taiwan. "I am very happy to see this delegation that came all the way from Taiwan to express their interest to share academic experience with UTG. Academic relation is one of the key areas of the cooperation between our two countries" said ambassador Shih. He emphasized the need to put the agreement into reality. "For us at the embassy, we will do our best to realize this dreams but we need to work together" he stressed.
Professor Michael J.K Chen, president of the LingTungUniversity, said that the ROC and The Gambia have long cordial ties, and the move is meant to consolidate the relations. "We can do a lot together to enhance the performance of our two high institutions of learning," he said.
He revealed that as a start LingTungUniversity will award three UTG female student scholarships to study MBA programmes at the university, provide university management training for administrative staff as well as to support UTG with professors.
Meanwhile, the two parties agree to this protocol with a view to increasing cultural exchange between the republic of The Gambia and the Republic of China (Taiwan), and to promote mutual understanding and friendship.
Both institutions agree to exchange books, periodicals, students' works, and educational data, to enable teachers to improve their teaching ability.
They also agreed to send and invite representatives to attend conferences and seminars as well as to invite teachers and students, in order to promote cultural exchange between the two countries.
According to officials, the protocol is valid for five years.
The signing ceremony was held at the UTG Vice Chancellor's office, and was chaired by Janung Manneh Registrar, University of The Gambia, and was graced by Professor Ting-Cheng Chan, Dean of the College of Information Science, LingTungUniversity.
Professors Nyan and Chen signed the agreement on behalf of their respective institutions.
Read Other Articles In Article (Archive)