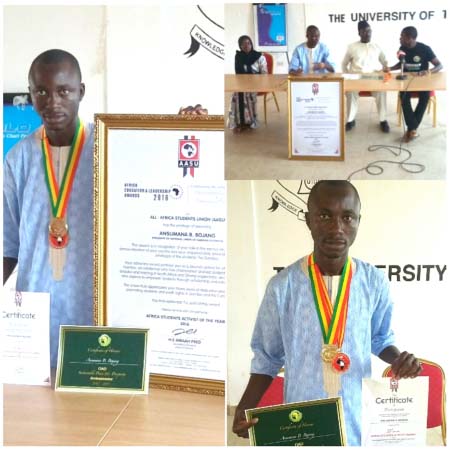 (Issue, Monday, August 22, 2016)
The president of the University Student Union, Ansumana B. Bojang, has been crowned with the 5th edition of the Africa Students Activist of the Year 2016 Award, at the All-Africa Students Union (AASU) conference held at the Coconut Groove Regency Hotel in Accra, Ghana.

He was also nominated by the Organisation of African Development (OAD) as a Sustainable Peace and Prosperity Ambassador.
Mr Bojang was among several dignitaries who were awarded at the function. These included the President of The Republic of Ghana John Mahama, the AU Chairperson Dr Dlamini Zuma and the Vice Chancellor of Cape Town University of South Africa.
Bojang was nominated for the Continental Award because of the numerous exemplary leadership roles he played in promoting the welfare of students both in The Gambia and around the continent.
His continental award accolade was the first of its kind that a UTG student has got.
Dr Omar Jah Jnr, Deputy Vice Chancellor of the UTG, said the award was very telling and revealing, as it indicates the level in which the UTG is recognised.
Those who nominated Bojang must have scrutinised him in comparison with the other nominees, he said, adding that it was therefore "very telling and revealing" that a student from the UTG in the person of the president of the student's union had been given such an award.
"This is because the UTG is already in the map in terms of its staff, student population and academic excellence," he added.
Dr Jah congratulated Bojang, saying the award was also symbolic of The Gambia's peaceful coexistence with others throughout the world.
"The award is also indicative of the peace and academic excellence in The Gambia, which has made The Gambia a role model and still remains a beacon of peace," he added.
Sanna Darboe, a member of the student body, said the hard work and dedication which Ansumana has always shown towards national development led him to clinch the award.
In his remarks, Ansumana Bojang said he felt "so elated and emotional" to have received the award.
"I felt so excited and emotional to have received the award for the simple fact that as small as we are, we are able to bag such an accolade, and that is indicative of The Gambia's bright future, especially for the youth," he said.
He expressed his profound gratitude to his colleagues in the student's body, the UTG management and staff, and institutions like the Gambia Revenue Authority (GRA) and Gambia Ports Authority (GPA) for their financial and moral support.
He also registered his "utmost gratitude and dedication" to President Jammeh for bankrolling his trip to Ghana.
Read Other Articles In Article (Archive)