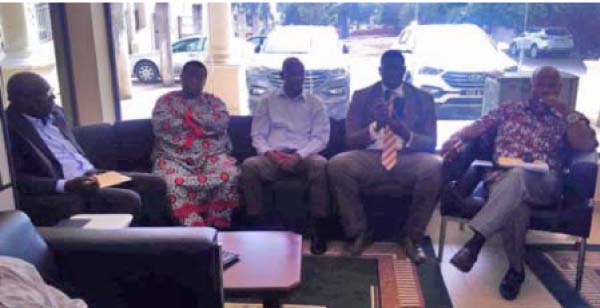 The acting vice chancellor of the University of The Gambia has said the lecturers and staff of the institutions who do not report to work would be sanctioned.

"Any staff who does not report to work without any legitimate reason will be sanctioned accordingly," said acting Vice Chancellor Prof. Ousman Nyan during a press conference yesterday.
The press conference was convened in reaction to a sit-down strike at the university by the lecturers and staff of the university, which started yesterday and is being spearheaded by the UTG Staff and Faculty Association (UTGFSA).
The association said the strike would continue as long as their demands are not met. They are calling for the resignation of the vice chancellor and members of his senior management team, for "incompetence".
They are also demanding salary increment and improvement in laboratory and other learning facilities.
At the press conference yesterday, Prof Nyan said the vice chancellor promised to look into the concerns of the association, and had appealed to them to give him at least six months to solve their key demands.
"But the UTGFSA has chosen to issue press statements and ultimatums. For the record, this is the second time that the UTG academic calendar has been disrupted by statements or actions of the staff association. This is a disservice to the nation and to the students."
Prof Nyan said the vice chancellor and UTG management is engaged in improving standards and working conditions at the UTG, including increment in salaries and allowances, learning space and conditions.
"On assumption of duty in October 2016, the vice chancellor shared his vision and plans with the entire UTG community and its stakeholders, and has been actively pursuing opportunities for support within and beyond The Gambia," Nyan added.
Lectures resume
Prof. Nyan said all the students of the university should go back to their normal lectures.
In addition, the UTG Senior Management Team (SMT) said they are not resigning or leaving their posts as requested by the UTGFSA.
Almami Taal, law lecturer and legal counsel for the UTG, said every organisation in The Gambia is under the law, and it is to be managed and administered according to the law of that institution.
Still adamant
However, the president of the UTGFSA, Dr Ismaila Ceesay, said it is up to the UTG if they would sanction all the lecturers and staff on strike, but what is clear is that they would not resume work "until our demands are met".
Ansumana B. Bojang, president of the UTG students union, said at the level of the union, they are also taking steps to ensure an amiable solution favourable to the students.
Read Other Articles In Article (Archive)