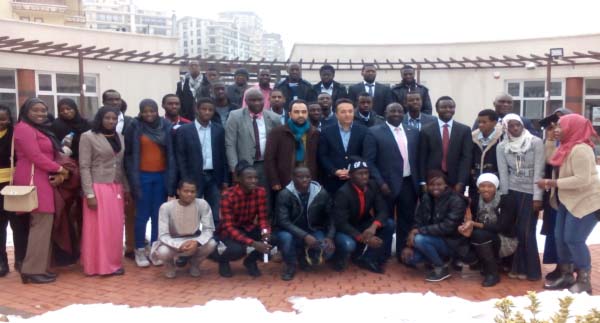 The Association of Gambian Students in Turkey, AGAST, recently gathered Gambian students from all parts of Turkey in Ankara, as part of its aim of fostering unity and brotherhood.
The association is credited for being in the forefront of championing brotherhood and unity among Gambians pursuing higher education in Turkey. 
Since its inception in 2010, AGAST has continued to improve the welfare of Gambian students in Turkey.
Speaking at the gathering, the Gambian ambassador to Turkey, Momodou Badjie, urged the students to always remain good ambassadors of The Gambia, and contribute both individually and collectively to national development efforts. 
He encouraged them to be hardworking, determined and courageous to overcome whatever challenge that may come their way.
Ambassador Badjie noted that regardless of ethnic diversity, Gambians are bound together in unison, and challenged all students to have the passion for nationalism and patriotism.
The ambassador further stated that Gambia-Turkey relations have over the years been going from strength to strength in many areas of development.
The deputy mayor of Keicoren Municipality in Ankara, Ferhat ERDOGAM, hailed the move taken by AGAST in its quest to unify students under one umbrella.
Expressing satisfaction with Gambian students in Turkey, ERDOGAM encouraged the students to maintain cultural and other ties with their Turkish counterparts. 
The president of AGAST, Ebrima S. Njie, said the association helps to address challenges faced by Gambian students in Turkey and provides counseling services to students before and after their arrival in Turkey.
He said the association has been providing interest-free loans to students, and offers assistance to new students to easily settle down.
Mr Njie advised the students to be conscious of their national duties, adding that each and every student's contribution is paramount.
The AGAST president thanked the Gambian Embassy in Turkey and the Keçioren Municipality for the instrumental roles they played in making the gathering possible.
Modou Bajan and Nfamara Camara (all in Turkey) also contributed to this article.
Read Other Articles In Article (Archive)