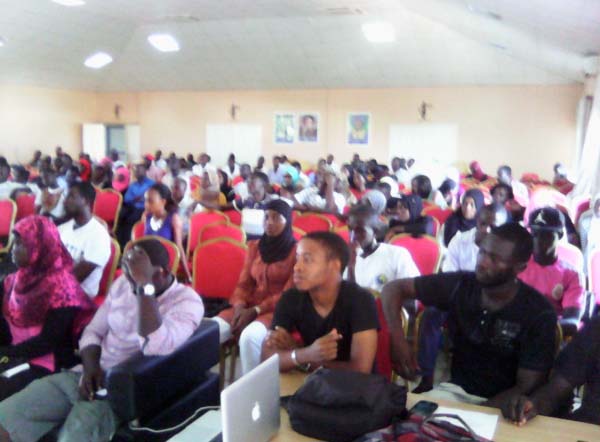 The 14th Executive Council of the University of The Gambia Students' Union recently held its first congress at the law faculty of the university at MDI Road, Kanifing.
Speaking on the occasion, Momodou Salieu Sowe, UTG Students' Union (UTGSU) president said the challenges of running the union are numerous but the solidarity of the students kept the executive moving and was able to register significant successes.
He said that during the last six months, the executive was able to successfully lobby for the scrapping of the annual 10 per cent tuition increment and the removal of the compulsory French graduation requirement.
The executive also played a critical role to end the teachers' sit-down strike at the School of Business and Public Administration of the UTG, and has successfully called for the decongestion of the UTG buses to Faraba, as well.
The students' union president said the organisation the first ever gala dinner to welcome freshmen and continuing students of the UTG on campus, and the other achievements have restored trust and confidence of the students in the union.
"Thank you for believing in us, thank you for giving us the opportunity to serve and write our record well in the annals of unionism in the UTG," Mr Sowe told the UTG students.
"We are proud of being part of this history, a history that will continue to linger in the minds of generations yet to come."
The UTGSU president told the congress that even though the union registered successes, "we are deeply reminded by the constraints we continue to face in our pursuit for excellence in the UTG".
He said the challenges that remain to be tackled include poor internet connectivity and poor sanitary facilities at the university.
The delay and sometimes non issuance of student ID cards and the scarcity of chairs remain to be nerve pulling challenges for the council, Mr Sowe said.
"However, as we move to the last quarter of our tenure in office, be assured of our continued resolved towards dialoging with the administration for solving these burdens on us," he said.
On the importance of the congress, the UTGSU president said it is a unique platform in the calendar of the union as it is the union's highest decision making body, as stated in the constitution of the organisation.
Read Other Articles In Article (Archive)