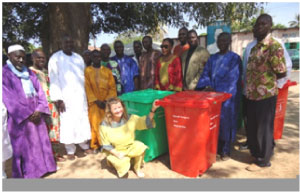 The Kombo South village of Kartong's pristine environment and responsible tourism practices has won an ecotourism project.
The coastal village is the Gambia's demonstration site for the regional project running in eight other African countries - Senegal, Ghana, Nigeria, Cameroon, Seychelles, Tanzania, Kenya and Mozambique.
Funded to the tune of US$50,000, the project which was Saturday launched at the village, seeks to enhance responsible tourism.
It is the ecotourism component of the Collaborative Actions for Sustainable Tourism (COAST) project being jointly implemented by the National Environment Agency (NEA) and the Gambia Tourism Board.
Under the project, Kartong's ancient sacred site, Folonko crocodile pool, will be rehabilitated and fenced. Already, 20 waste bins and 10 bicycles have been purchased to introduce more environmentally-friendly activities, and were all officially handed over to Kartong Association for Responsible Tourism (KART).
Declaring the project launched, Kodu Jabang Jobe, deputy permanent secretary at the Ministry of Tourism and Culture, implored on Kartong and KART to continue to adhere to the principles of ecotourism.
Mrs Jabang-Jobe said: "Ecotourism has received much attention globally in recent years. In Gambia, it is presently in its infancy.
"The project approach will provide important lessons on how to sustain an emerging and dynamic tourism sector in Africa, while conserving fragile coastal ecosystems within the context of rapidly changing environments and increased international tourism."
According to her, the project objective is to demonstrate and support the adoption of best practice approaches for sustainable tourism sector in Africa that reduces the degradation of marine and coastal environment of transboundary significance.
Mustapha Darboe, deputy permanent secretary, Ministry of Forestry and Environment, said that with advances in transportation and information technology, even the most remote places on earth are within reach of the traveller. "In fact tourism is now the world's largest industry, with nature tourism the fastest growing segment," he said.
The coordinator of the demo site project, Aboubacarr Kujabi, said the project would train 20 members of the community on environmental issues to enable them to protect the marine and coastal ecosystems, in addition to a training of trainers for 6 KART and VDC members to build capacity within the community for further replications.
The project would also develop Tesito Camp into a camping site with modern facilities and enhance the Sandele craft showcased by introducing new craft products, among a long list of beneficial programmes and activities KART and VDC will benefit from, he added.
The COAST project is a collaborative effort across nine African countries, which promotes actions for sustainable tourism and is funded by UNEP, UNIDO, UNWTO and the Netherlands Development Organization.
Read Other Articles In Article (Archive)