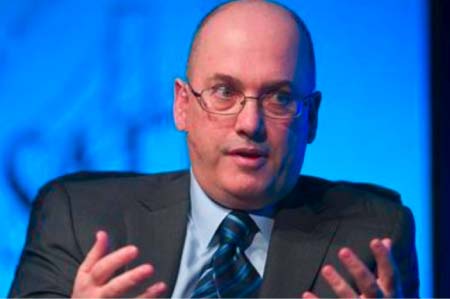 B
illionaire investor Steven A. Cohen's days as a hedge fund manager may be finished with an agreement by his SAC Capital Advisors to plead guilty to criminal charges of insider trading and pay a record $1.8 billion in fines and forfeitures.
But Cohen, one of Wall Street's best known traders, has not been personally charged with any crime and will likely continue managing some $9 billion of his own money through a family office once his hedge fund's plea deal is cleared by the courts.
Cohen's fund will shut down its investment advisory business, according to a settlement with prosecutors announced on Monday. SAC Capital is up 1.3 percent in October and up 15.95 percent so far this year, a source familiar with its performance said.
If approved by federal judges, the agreement would also resolve civil forfeiture action against SAC and its affiliates. The deal also requires SAC to install an independent compliance monitor if it continues to trade.
Jonathan Gasthalter, a spokesman for SAC Capital, did not immediately respond to a request for comment.
The settlement is only the beginning of a long process for Cohen of freeing himself from the constraints of a federal investigation that has gone on for at least seven years and has tarnished the reputation of one of Wall Street's most revered stock traders.
"The government is getting an enormous amount of money and shutting down his advisory business. They've basically achieved what they wanted, which is to cut off this guy's ability to manage other people's money," said C. Evan Stewart, a partner at Zuckerman Spaeder who is not connected with the case.
Manhattan U.S. Attorney Preet Bharara outlined the plea deal in a letter to federal judges in the case that accused SAC Capital of presiding over a culture in which employees flouted the law and were encouraged to tap personal networks for inside information about publicly traded companies.
"The government believes that the proposed global resolution is fair, reasonable and firmly promotes the interests of justice, deterrence and respect for the law," Bharara wrote.
The agreement does not preclude future criminal charges against individuals in the investigation, according to the letter filed in U.S. District Court. Investigations are continuing into trading in at least two other stocks, Weight Watchers International and The Gymboree Corporation, according to a person familiar with the matter. The person said the investigation could lead to other charges against people who are still employed at SAC.
LONG-RUNNING INVESTIGATION
The deal also does not include a specific cooperation agreement between the government and SAC, which means it is not clear whether the firm will have to provide more information to the government for the ongoing investigations.
The deal will punctuate one of the longest-running, highest-profile insider trading investigations in recent years, although it will not necessarily end the effort.
The guilty plea from SAC Capital is the biggest achievement yet for U.S. prosecutors in its multi-year crackdown on insider trading in the $2.2 trillion hedge fund industry that has already led to the convictions of former Galleon Group founder Raj Rajaratnam and former Goldman Sachs Group Inc director Rajat Gupta, also a onetime head of McKinsey & Co consultancy.
The hedge fund founded by Cohen in 1992 with $25 million charged some of the highest fees in the industry and was one the more successful, returning an average of 25 percent a year for investors.
U.S. prosecutors in July charged the hedge fund - which managed as much as $14 billion this year before investors began withdrawing money - on one count of wire fraud and four counts of securities fraud. As part of Monday's deal, SAC has agreed to plead guilty to all five counts.
The total settlement amount of $1.8 billion is made up of $900 million in fines and forfeiture of $900 million. The total forfeiture amount includes a $616 million sum that SAC had already agreed to pay earlier this year to settle civil lawsuits by the U.S. Securities and Exchange Commission for insider trading, according to Bharara's letter in U.S. District Court in Manhattan.
If SAC continues to trade in securities, it will have to install an independent, government-approved compliance monitor to ensure its future trades are legitimate and not based on non-public information, the prosecutor's letter said.
Meanwhile, observers are expecting an exodus from SAC, which employed roughly 900 people earlier this year. Cohen has been slowly returning money to outside investors and was widely expected to convert his operation to a family office, merely managing his own billions, by early next year.
Cohen will have to "dramatically" downsize his operation, said Stephen Martiros, an independent consultant to family office and private investors.
"Most everything about the way they've been running the firm will have to change," he said, adding SAC could shed marketing specialists, client relationship managers and some legal and compliance staff.
"There's only a handful of family offices with $5 billion plus and I can't think of any of those that have much more than about 100 people," Martiros said.
A person who worked with SAC for many years said since the bulk of the firm bonuses will be paid out in the next few weeks, many employees poised to join other hedge funds or start their own funds will likely make their moves. The person said he has been personally contacted by people looking to leave the firm.
Cohen is still facing an administrative action brought in July by the SEC accusing him of failing to properly supervise his employees. The case was suspended in August after the firm was indicted. The indictment against SAC named seven one-time employees of the firm who have either been charged or convicted of insider trading.
Two men, Mathew Martoma and Michael Steinberg, are awaiting trials for charges based on trades they made at SAC Capital. Both have pleaded not guilty. Steinberg's trial is set to begin November 18. Martoma's is set for January.
Read Other Articles In Article (Archive)