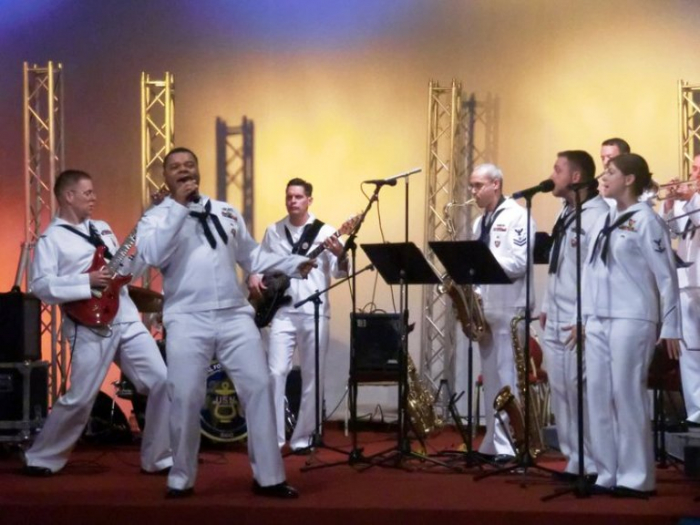 The United States Navy Band and The Gambia Armed Forces Band at the weekend jointly performed and thrilled fans at the Buffer Zone in Tallinding as part of the US Embassy outreach programme.
The visiting US navy band was the first to entertain the fans before the Gambia army band took its turn.
Speaking to this reporter shortly before the performances, the head of the US Navy Band, Senior Chief Musician Max Fryer, said their visit was facilitated by the US embassy in Banjul, to come and learn from their Gambian counterparts.
He said the visit was their first to The Gambia and were amazed at what they have experienced so far, adding that they are based in Italy and are performing across Europe.
"That is why the band is called US Naval Europe Band," he said.
Chief Musician Fryer, who spent 12 years in the US army, told our US embassy correspondent that the trip to The Gambia "is very useful" since they have had  the opportunity of sharing experiences and ideas with their Gambian counterparts. "This will surely bridge the gap between the two bands," Fryer said.
Speaking to reporters, US Embassy Charge d'affaires Cindy Gregg said she was delighted at seeing the two bands jointly performing. "This step is part of the US Embassy's Banjul office outreach programme. It will also help the visiting US Navy band to associate with their Gambian counterparts," she said.
According to Madam Gregg, the concert will also boost the relationship between the US Navy band and the Gambia Armed Forces band in their drive to play quality music.
She also hailed the Banjul-Washington tie, saying it "will go from strengthen to strengthen".
For his part, Major Momodou Dibba, Band Master and Director of GAF band, hailed the "brilliant performance" of their US Navy counterpart, saying: "This is a good move taken by the US Embassy."
Major Dibba said they would continue to exchange ideas and learn from each other. "This will further strengthen the relationship between the US and The Gambia," he said, adding that GAF band plays Afrong Manding with classic, rock and jazz music.
People at the concert were excited and forced to dance in ecstasy as they were entertained with spectacular performances by both bands.
Read Other Articles In Article (Archive)