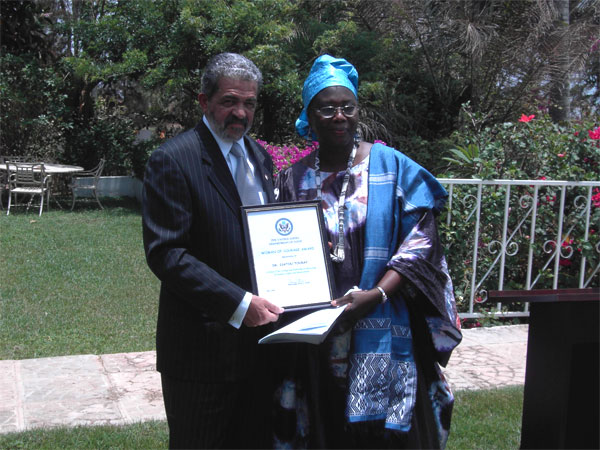 The Embassy of the United Sates of America in Banjul yesterday honoured Dr Isatou Touray, Executive Director of Gambia Committee on Traditional Practices (GAMCOTRAP), as the Embassy's Banjul nominee for the 2008 Secretary of State's Award for International Women of Courage.
The award, given annually, pays tribute to women of courage around the world and holds them up as examples of hope, strength, and compassion.
Speaking at a luncheon honouring Dr. Touray, held at US Ambassador's residence yesterday, His Excellency Barry Wells, US Ambassador, described women as essential agents in bringing about change. He said that women are an often overlooked resource in the preservation of human security, in overcoming transnational dangers, and in managing threats arising from tyranny, trafficking, poverty and disease.
"Achieving the United States' mission of advancing democracy, prosperity, and security worldwide is not possible without the empowerment of women. If women cannot participate in the political process, there can be no real democracy," he said.
According to the United States' chief diplomat in The Gambia, poverty is more rampant when women lack education and economic opportunity.
"Justice is thwarted when women are denied the right to play a political role in their nations. And in today's modern world, no country can achieve lasting success, stability and security if half of its population is sitting on the sidelines," Ambassador Wells noted.
In the view of Ambassador Wells, if women are not educated, they cannot pass knowledge to their children, and there is no true security for the next generation.
Receiving the award, Dr Isatou Touray expressed her gratitude and appreciation to the United States Embassy and the US government for honouring her with such an award.
Dr. Touray highlighted the focus of GAMCOTRAP's work which, she added, is grounded in grassroots activism, working with communities in trying to understand the issues inimical to their health and well-being.
According to Dr. Touray, the honour gives them the courage and commitment to continue the work they are doing. "The sacrifice is worth it because of the difference it makes in the life of the poor, vulnerable and powerless people we serve."
Dr Touray used the occasion to dedicate the award to GAMCOTRAP, all its members and the community-based facilitators who, she added, have been engaged in the struggle for promoting women's and children's rights. "We are committed in the work we do because there are people who believe in the cause we stand for and who provide the support needed to continue engaging constructively with the communities we serve," she said.
It would be recalled that in 2007 the United States Embassy nominated Hannah Foster, Executive Director of African Center on Democracy and Human Rights Studies (ACDHRS) for the award.
Read Other Articles In Article (Archive)