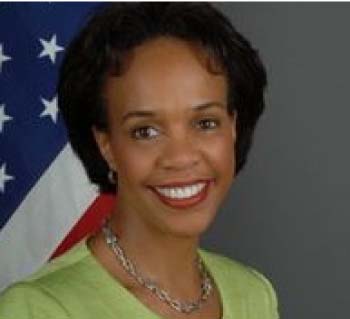 A Deputy Assistant Secretary in the Bureau of African Affairs of the United States Department of State is currently in The Gambia on a four-day visit.
Bisa Williams will from 1st to 4th February meet with government officials, business people, and members of civil society, the US Embassy in Banjul announced.
Her visit, according to the US Embassy, is to support the long-standing bilateral relationship and continued close ties between the United States of America and the Republic of The Gambia.
DAS Williams will hold a press conference to discuss and answer questions about her trip, and the current state of relations between the U.S. and The Gambia.
Ms. Williams is a career member of the Senior Foreign Service, with the rank of Minister Counselor, and is currently Deputy Assistant Secretary in the Bureau of African Affairs at the U.S. Department of State, responsible for West Africa and African economic policy issues.
She served as U.S. Ambassador to the Republic of Niger from 2010 to 2013. She was the Coordinator for Cuban Affairs in the Bureau for Western Hemisphere Affairs in the Department from 2007 to 2010, and also served as acting Deputy Assistant Secretary for Western Hemisphere Affairs covering Central America, the Caribbean and Cuba in 2010.
From 2005 to 2007, Ms. Williams served on the White House staff at the National Security Council as Director for International Organizations. Her other postings include Deputy Chief of Mission at the U.S. Embassy in Port Louis, Mauritius, "Africa Watcher" at the U.S. Embassy in Paris, France, Special Assistant to the Secretary of State, Advisor on African development and economic issues at the U.S. Mission to the United Nations in New York, Special Assistant to the Coordinator of Assistance to the Newly Independent States of the former Soviet Union, deputy country desk officer for Liberia and country desk officer for Sierra Leone and Cape Verde, political officer (twice) in Panama City, Panama, and general services officer in Conakry, Guinea.
Ms. Williams speaks French, Spanish, and Portuguese. She is the recipient of five Superior Honor and four Meritorious Honor Awards.
A proud native of Trenton, New Jersey, Ms. Williams holds a Master of Science degree in National Security Strategy from the National War College of the National Defense University in Washington, DC, a Master of Arts degree in Comparative Literature from the University of California, Los Angeles, and she received her Bachelor of Arts degree cum laude in Black Literature of the Americas from Yale. 
Read Other Articles In Article (Archive)