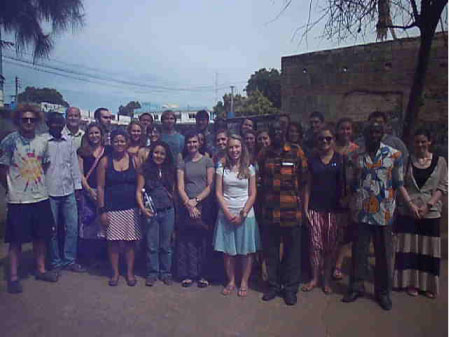 Twenty-seven students from Juniata College in the US on January 14, 2013 paid a courtesy call on The Point newspaper at its offices on Garba Jahumpa Road in Bakau Newtown.
The students' annual visit to The Point was in line with their academic aspiration to gain more knowledge and skills on various fields of development in The Gambia.
The students were led by their professor, Dr Emil Nagengast, and received by members of The Point's editorial team.
The Point co-publisher Pap Saine, on behalf of the company, welcomed the students and thanked them for their show of interest in The Point.
The Point is a leading independent newspaper in the country, Mr Saine said, while briefing the students about the distribution and circulation mechanisms of the paper.
The paper has won two prestigious international awards for promoting democracy and human rights in The Gambia, he explained.
The Point editor-in-chief Baboucarr Senghore, in his briefing, told the students how recruitment is done at the paper as well as its editorial policy.
For his part, The Point's deputy editor-in-chief Nfamara Jawneh gave a brief history of the paper, saying the company was established on 16 December 1991 by the late Deyda Hydara, the late Babucarr Gaye and Pap Saine.
Mr Jawneh said The Point is an independent newspaper that promotes divergent views on democracy and human rights.
"We also cover issues on women and children, politics, business, crime and court among others," he explained.
"As the most authoritative independent newspaper in the country, we endeavour to remain committed to serving our readers to the best of our ability irrespective of their political affiliations, race, religion and social status."
Speaking on behalf of the students, professor Nagengast, who was a lecturer at the University of The Gambia in 2006 and 2010, expressed gratitude to the management for welcoming them to The Point offices with open arms.
Being one of the avid readers of The Point, Professor Nagengast said he is pleased that the paper is getting better every year.
He noted that usually at the end of every summer, he comes with students to The Gambia to study The Gambia's history as well as its culture.
Other speakers on the visit included news editor Modou Sanyang, who spoke about the issue of self-censorship among Gambians.
Read Other Articles In Article (Archive)