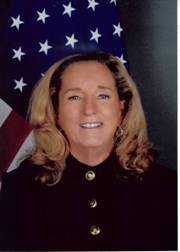 The United States ambassador to The Gambia yesterday attended World Education Day at Ndow's High School in Kanifing. 
Speaking at the ceremony, US Ambassador Pamela White told the students to continue working hard to become better citizens and to build a more democratic society.
The US diplomat admonished the students to work hard so that after completing their high school they can join the University of The Gambia or go abroad to acquire higher education in order for them to become more productive citizens.
For her part, the principal of the school, Mrs Florence Ambong, expressed gratitude to the US ambassador for her visit to the school.
According to her, since 1995, the visit of Mrs White on this occasion was the second time for a US ambassador to visit the school.
She hailed the US for what she called its interest in education in Africa.
Mrs Ambong assured the gathering that the students would continue to work hard in building their future.
Papa Njie, public diplomatic assistance at the US embassy, in his presentation, said: "The US is the only country that offers significant funding to international students."
This funding, he added, comes from the universities, not from government or foundations.
Mr Njie said undergraduate funding are needs- and merit-based, as well as reward for good academic performance or special talents.
Mr Njie also gave a brief background of how students could solicit scholarship opportunities in the US.
He said: "If you want to make a plan you have to start early 12 to 18 months before enrollment: assess your academic interest, goals and competitiveness; assess your finances; raise as much money as possible from family sources.
According to the Consular of the US Embassy, Mr Andy, visa requirements are a requirement for all students.
Visa issuance to students is considered on their evidence of ability and motivation to complete their course of study primarily from parents, including documentation of sources and amounts of income and the intention to return home after studies among other factors.
In concluding, he advised the students to continue working hard for their future.
Read Other Articles In Article (Archive)