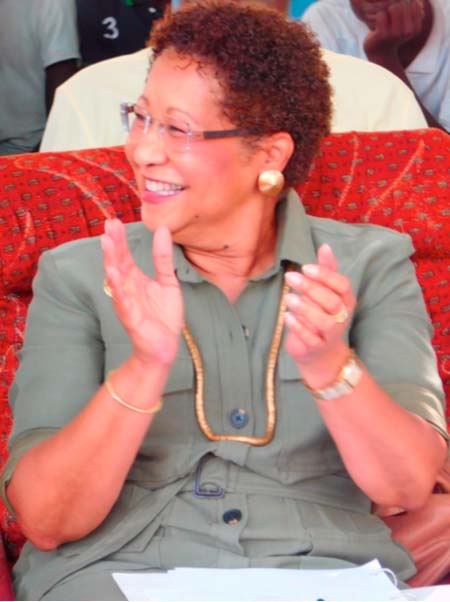 The United States Ambassador to The Gambia, Carolyn Patricia Alsup, yesterday presided over the swearing in ceremony of 16 Peace Crops Education Volunteers at the US Ambassador's residence in Fajara.

The swearing in ceremony serves as a milestone in volunteer service as it marks the completion of 10 weeks Pre-Service Training (PST) that strives to prepare the trainees for service in the respective communities they will be posted to serve.
The aim of the training was to enable the trainees to learn to communicate in the local languages, gain a deeper understanding of the rich patterns that make up the Gambian culture, and learn to take responsibility for their health and safety as well as security while in the country.
Speaking at the swearing in ceremony, Jennifer Geotte, Peace Crops Country Director, thanked the members of Peace Corps for the vital role they play in preparing trainees for service.
"Our Program Manager for education and our program assistance have done an outstanding job of supporting and engaging with this group on the technical aspects of their training," she explained.
She added that there is a tremendous amount of work that goes on behind the scenes to contribute to the success of pre-service training.
She acknowledged to the gathering that since the inception of the Peace Corps in 1961, the mission of the organisation to promote world peace and friendship, remains unchanged in a changing world.
She emphasised that the volunteers of the Peace Corps are united under the principle that development is achieved through common appreciation and respect.
For her part, the Minister for Basic and Secondary Education, Claudiana A. Cole, stressed that since the establishment of the Peace Corps service in 1961 there are goals which they are entitled to archive, which include the helping of people of interested countries in meeting their need for trained men and women.
"In collaboration with my ministry, Peace Corps knows the priority of the ministry and would contribute in a sustainable manner so that the volunteers can leave behind real improvements which will last into the future," she elaborated.
Realising the importance of the Peace Corps and their intervention, she said, they demand for the stationing of the cohort of volunteers at the Central River, Upper and North Bank Regions where the challenges are most extreme as per the current development indicators.
Read Other Articles In Article (Archive)