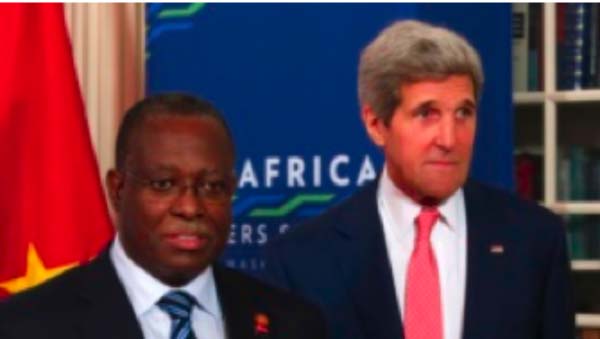 Events surrounding the summit between President Barack Obama and some 50 African heads of state are under way in Washington.
At a forum on African civil society Monday, U.S. Secretary of State John Kerry urged participants to push for democracy and individual rights in their countries.He said the U.S. believes when people can trust their government, a society is more prosperous and stable, and less likely to descend into violence and extremism.
At an earlier forum on economic opportunity, Kerry outlined some of the U.S. goals for the three-day summit.
"It's also why we're determined to deepen our partnership and deliver on remarkable opportunities for peace, for security, for economic growth, and perhaps for most important in the context of what brings us here today, the empowerment of people through their government, through their civil society," Kerry said.
He urged African ministers to embrace free-market ideals and U.S. - Africa cooperation.
"I say unabashedly, we want and we will work hard to get more American companies to invest in Africa. We also want more African companies to invest here in the United States. There is no reason why they shouldn't."
But Kerry also called for greater transparency and a commitment to fight corruption.
"To do so takes courage and yes, it sometimes means taking risks," he admitted. "But fighting corruption lifts more than a country's balance sheet. Transparency and accountability attract greater investment. Transparency and accountability create a more competitive marketplace."
U.S. Secretary of State John Kerry (R) meets with Vice President of Angola Manuel Vicente at the State Department in Washington, Aug. 4, 2014.
The secretary is holding individual meetings with at least eight African leaders on Monday.
President Obama will address a U.S.-Africa Business Forum on Tuesday and take part in sessions focused on economic growth, regional security, and good governance on Wednesday.
Summit agenda
The U.S. is set to unveil nearly $1 billion in business deals, more funding for peacekeeping, and billions of dollars for food and power programs during the three-day summit.
China, Europe and Japan have all held similar events to encourage investment in Africa, but the White House denies its Africa Summit is in response to increasing investment in Africa from China.
U.S. businesses have generally been hesitant to invest in Africa despite the high growth rates seen in many countries.
Billions of dollars in new funding is expected to be announced for Power Africa during the summit. The program's goal is to add 10,000 megawatts of generation capacity and 20 million new electric customers in Africa by 2018.
Private industry has committed $7 billion to the program since it was announced last year by President Obama.
Countries have also said they will use the summit to lobby their interests in the U.S. For example, South Africa has already said its delegation will push for a 15-year extension of the African Growth and Opportunity Act.
The law gives eligible Sub-Saharan Africa countries preferential treatment in their exports to the U.S., but the program that began in 2000 is set to expire next year.
Excluded
U.S. officials say only four African leaders were excluded from the talks - the presidents of Zimbabwe, Sudan, Eritrea and the Central African Republic.
The summit convenes at the same time several West African nations are facing an Ebola virus outbreak.
President Obama said Friday the United States is closely following the situation.He said African officials from at-risk countries will be screened for the disease before entering the U.S.
The leaders of Sierra Leone and Liberia have canceled their summit trips to Washington because of the Ebola outbreak.
Read Other Articles In Article (Archive)