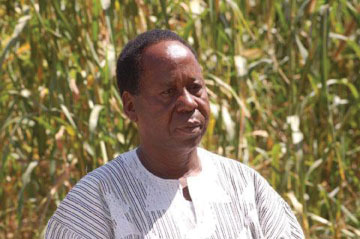 Four persons from the village of Kuwonkunding in the Wuli West district of the Upper River Region have been reportedly remanded in custody at Janjangbureh prison.
The detention, without a court order, of Saloum Barrow, Alhagie Touray, Almameh Touray and Mamudou Touray, who are yet to appear before a competent court within the jurisdiction, was purportedly ordered by the police commissioner in Basse and URR Governor Omar Khan.
"Yes, others would be granted bail whiles some would be taken to remand in Janjangbureh," Governor Khan declared in a telephone interview with this reporter yesterday, before asking this reporter not to call him again in connection with this matter.
When contacted, and asked if their action was in conforminty with the constitution, the police commissioner said they acted within "Gambian law".
According to our sources, on Saturday 24th November 2012, the youths of Kuwonkunding had a problem with one Kanta Sabally, a wealthy cattle herder.
The URR village community, it was learned, had passed a rule that anyone whose cattle was found in their farms shall pay a fine.
Eye witnesses told this paper that Kanta Sabally's animal was captured in a village farm, and tied at the village centre. Sabally went there with a knife, cut the rope and left with the animal, while daring anyone to stop him, our sources said.
The youths of the community, reportedly angered by his action, then allegedly beat him up.
The matter was reported to the police, who arrested and detained several persons for three days.
When contacted, police public relations officer ASP David Kujabi confirmed that, initially, as many as 18 persons from the village were arrested and detained.
Subsequently, four of them were sent to be remanded in custody at the prison, Kujabi further revealed.
Read Other Articles In Article (Archive)