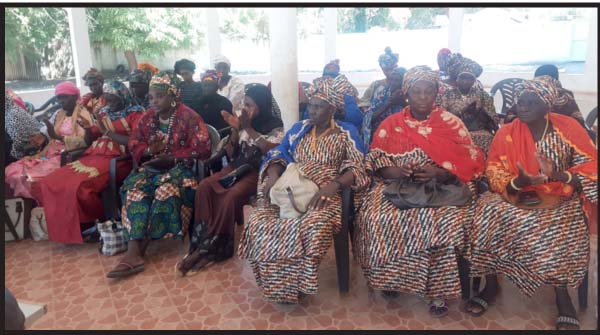 Samba Bah, deputy governor of Upper River Region –URR- has said that culture and tradition that affect the wellbeing of people with health complications should be stopped in the country, arguing that the deeply rooted traditional practices of FGM/C should be completely eradicated.

"Collectively, we should stand together in ensuring that our girl child are not subjected to this 'harmful' practices which has health complications. The practice has serious complications for sexual and reproductive health of our girl child," Mr Bah said.
Speaking on day two of Women Bureau's ongoing information sharing sensitisation outreach in Basse that brought together women leaders across the region, Mr bah said such sensitisation outreaches within the rural part of the country are important as it will go a long way towards eradicating the menace in the society. The information sharing outreach is funded by UNICEF.
"At first, I feel so nervous talking about the issues of FGM/C but now am comfortable to discuss it with people. In fact, it should be the responsibility of everybody to come out and discourage people from practicing it."
He revealed that a case of early marriage was reported to the office of the governor, adding that these are something that are rampant within our communities, hence it is everyone's responsibility particularly parents in ensuring that FGM/C, early marriage among others are stamped out in our societies.
Lamin K Saidy, child rights activist at Child Protection Alliance (CPA) said the risks children faced regarding FGM/C, physical and humiliating punishment, rape, child abuse among others pertaining issues affecting children is as result of lack of dialogue between parents and their children.
Mr Saidy alluded that it's because of the lack of discussions between parents and children on the respect for the views as a child, something he described as a serious issue in the country. Children, he added, are not given the chance to express their concerns including the decision making process.
"We're in a society where many parents will not want to engage their children into discussions because of cultural barriers for the fact that many parents term it as 'disrespectful' to have their children present during gathering."
Some parents, the CPA Child Rights Activist said, feel even nervous to discuss sex and sexuality with their children. "Parents sometimes are victims of sexuality and therefore do not have enough information to give to their children leading to a society where children end up risking their lives due to lack of knowledge."
For her part, Ajaratou Neneh Darboe former Lady Councilor in URR and a participant said it is of 'paramount' for people to be aware of the complications that are involved in the deeply rooted cultural and traditional practice.
Read Other Articles In Article (Archive)