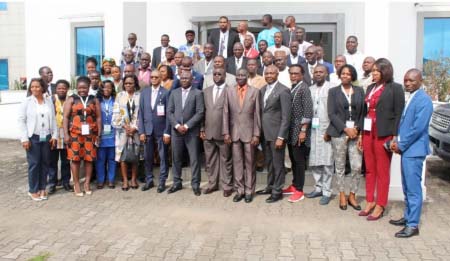 A three-day regional training on economic and financial crimes investigative reporting for journalists is underway at the Central Bank of Liberia. The training is organised by the Inter-Governmental Action Group against Money Laundering in West Africa –GIABA- with support from ECOWAS.

The convergence brought together more than fifty participants from Ecowas member States with the aim to train them on how to investigate financial and economic crimes and money laundering in the region.
Speaking at the opening ceremony, director general of Liberia's financial intelligence unit, Edwin Harris said the training will mark a turning point in the media landscape, considering the immense exposure of money laundering and terroristic finance.
He said the fight against financial crimes cannot be just FIU's alone, but will require the support of the media, the entire region and other groupings to make significant gains.
Mr Harris said his anticipation is that at the end of the training, participants will use their new experience to improve their reportage on financial crimes and money laundering.
Justice Kimelabalous, Director General of GIABA, said Ecowas heads of state established GIABA in 2000, in response to the nefarious effects of money laundering on member States economies and to demonstrate its commitment to the global fight against money laundering and terroristic financing.
He added that since its inception, GIABA has also undertaken trainings and carried out awareness raising activities for state authorities as well as non-state actors, such as civil society organisation especially the media to deepen their understanding of laundering and combating the financing of terrorism.
Read Other Articles In Article (Archive)