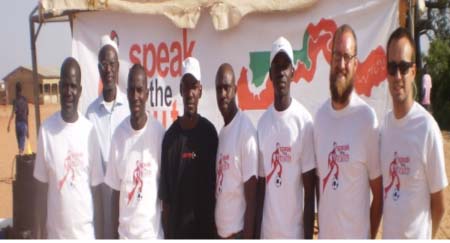 Upper Badibou have been crowned champions of the HIV and Aids football tournament after defeating Jokadou 14 - 13 on post-matchpenalty shootout, after the regulation time failed to produce a winner in a well-contested final game played at the Kerewan Football Field, North Bank Region.
The tournament, organised by North Bank Regional AIDS Office in partnership with US Peace Corps, was held on the slogan: 'Speak the TRUTH'.
The tournament aims at raising more awareness among youths on HIV and AIDS, promotes safer sex behaviour and advocates for reduction of stigma and discrimination.
This year's tournament was played by 8 district teams in the North Bank Region.
Babou Jimba Jobe, Regional AIDS Coordinator for NBR, was speaking on Saturday in Kerewan at the end of the football final play between Jokadu and Upper Badibou.
He lauded US Peace Corps for their foresight in complementing the efforts of the National AIDS Secretariat in the fight against HIV and AIDS.
He noted that the fight against HIV calls for concerted efforts of all stakeholders and assures of the regional office's support.
NBR Regional Aids Coordinator thanked all the participating teams for their invaluable support in making the tournament a success.
Ebrima Jaiteh, Peace Corps volunteer in Njaba Kunda, noted that the football tournament is aimed at the youth to get learn skills and develop knowledge on HIV mode of transmission and prevention.
He commended the district teams, Regional Youth Office and Sport Committee for their support throughout the tournament. The Peace Corps volunteer thanked the US Embassy for funding the HIV and AIDS football tournament.
Ebrima Ceesay of Farafenni and Mamudou Jawo of Jokadu, head coaches, commended the National AIDS Secretariat and Peace Corps for building the understanding of the youth on HIV and AIDS.
The officials noted that the tournament has built networking among youths and assures them of their support.
Abdou Khan, 1st Vice President of North Bank Football Association, expressed delight, saying the tournament would help the region to scout out talented players at grassroots level.
He reiterated the willingness of the region to advance football, whilst thanking all the teams for their high sense of discipline in the tournament. 
Read Other Articles In Article (Archive)