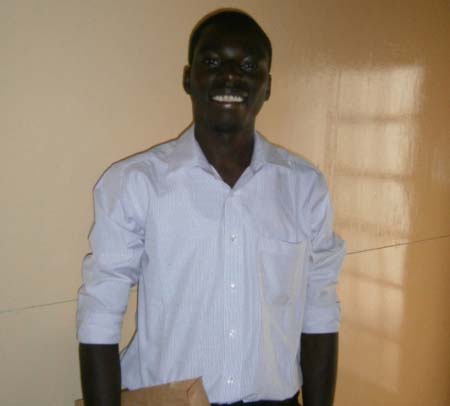 Amadou Camara, a 4th-year student at the University of The Gambia (UTG) studying political science and history, is seeking financial support to attend an International Summer School on Leadership (ISS) 2013 to be held from 14 to 24 August 2013 in Bazaleti, Georgia.
Amadou, who walked into The Point offices on 1 August 2013, said he needs financial support from public and private sector institutions and companies as well as individuals, to enable him to pay for the cost of his air ticket at the tune D64,700.
He added that the programme is about leadership and how to maintain peace and security in the 21st century and targets mainly young people like him.
The International Summer School on Leadership is organised by the International Spark Program and Free University of Tbilisi.
The organizers, in their confirmation letter addressed to Amadou Camara, said: "We have received many applications this year and we hope he will be one of the eighty students who join us for this experience."
The letter added: "After considering the application of Amadou Camara for the International Summer School on Leadership (ISS) 2013 we are delighted to offer Mr Camara a place at the International Summer School on Leadership 2013."
Meanwhile, anyone willing to help Amadou Camara can contact him on the following numbers: (00220) 7169984 or (00220) 3456710 or via e-mail to camadou@yahoo.com.
LRR to host YMCA Africa Youth Day Celebration
By Ebrima Bah in Mansakonko
The Gambia Young Men Christian Association (YMCA) has chosen the Lower River Region (LRR) through the YMCA Economic Livelihood and Entrepreneurial Project Office of the region to host the 2013 Africa Youth Day in November.
The decision for LRR to host one of the organisation's most important events in its calendar was communicated to the regional YMCA office by Joseph Peacock, deputy National Director of the Gambia YMCA, who was on tour to supervise the progress of the final batch of youth on the skilled jobs training in the region.
Speaking to the YMCA students and their trainers over the week in Jarra Soma, Mr Peacock said plans are at an advanced stage from his end to transform the YMCA office in LRR from a project focus to a permanent institutional chapter of the organisation.
Read Other Articles In Article (Archive)