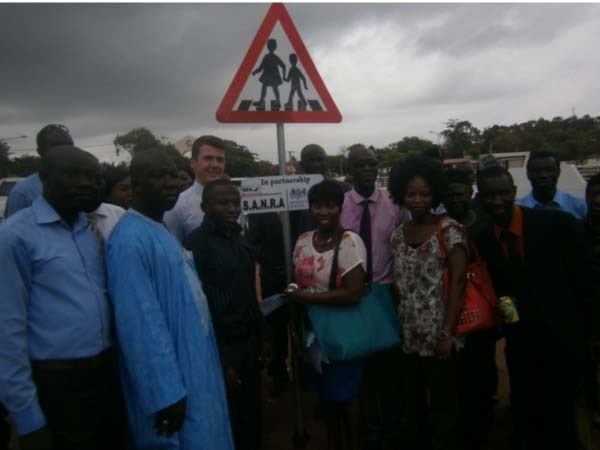 National Roads Authority Staff Association (SANRA) Tuesday inaugurated 40 Road Traffic Sign Boards at a ceremony held opposite the new Parliament building in Banjul.
Thirty out of the 40 road traffic signboards inaugurated were sponsored by SANRA through the funds they acquire from their fundraising activities and the remaining 10 signboards were sponsored by the British High Commission.
Speaking at the inauguration ceremony, George Sheriff, Charge D' Affairs at the British Embassy, said sponsoring the project was part of his embassy's bilateral project fund.
He said everyday more than 3,000 people around the world lose their lives due to road crashes. "It's the equivalent of ten jumbo jets crashing, yet it goes unnoticed," he said.
He said nine out of ten of these deaths occur in low middle-income countries which count for less than half of the world registered vehicles.
He said these tragedies play a major role in continuing poverty and rob communities of human potential and breadwinners, deprive business of skilled labour, cast families into massive health-related debt, consume hospital resources and hinder local economies.
He said in The Gambia, road traffic accidents account for almost 100 deaths a year, adding that the project has two elements, first was to fund crossing points and road safety signs at key intersections on major roads where there is risk of accidents.
The second and the most important aspect of the project, he stated, was to increase awareness of road safety by conducting awareness raising campaigns with children in schools, drivers and other road users.
Momodou Gassama, representing WHO, said road safety is everybody's concern because people are needlessly dying on our roads and the world is now united against road traffic crashes.
He said people need to respect the signs on the road as the signboards were not for decoration but are there for people to learn and know and take the necessary measures.
He said the road could be good but if the vehicles are not good, it would give problem. He commended the police for doing their work on that part.
Bakary Manneh, SANRA president, said they started the initiative last year with a gala dinner, whose purpose was to raise funds, adding that they promised that part of the profits would go into road safety initiative.
He said the signboards are 40 in numbers and 30 were sponsored by them and the remaining 10 was sponsored by the British Embassy.
He said they are urging every road user to use the road traffic signboards wisely.
"Let it not be a decoration on the road, let people use it," he said, adding that they intend to go on sensitizing the public about the use of road traffic signboards.
He said they want the public to use the signboards just like seat belts.
Other speakers at the occasion were Bai Bittaye, NRA HR Director, Commissioner Fadia Jarju, Lamin Saidykhan, chairman of road safety committee and Lamin Bojang.
Read Other Articles In Article (Archive)