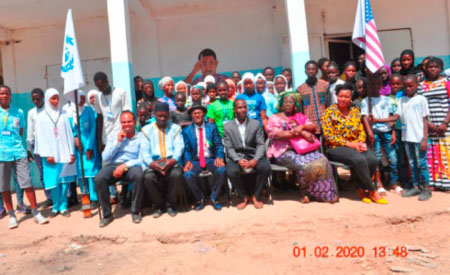 Unique Foundation, with support from the US Embassy in Banjul, have commemorated the 2020 International Day of Education over the weekend, at the Learning and Resource centre office 'on the theme: Learning Empowering people.

Speaking at the opening ceremony, Mr Solomon, head of Unique Foundation said they are a charity working with women, children and youth.
He said the Foundation started operation in 2014, and since then they have been doing a lot of activities, especially in the area of advocacy related to issues of education.
He said their education project started in 2017 after noticing that many students have less academic performance in school, and most of them lack adequate planning materials, as well as qualify tutors to help them.
According to him, their ultimate goal is to prevent students from dropping out in schools, saying they are looking forward to expanding the centre to other regions. "We are using the celebration to advocate for the needy people to go into learning through education. The goal is not only the learning resource centre but also a library where students can come and do research and learn more skills."
Malleh Sabally, a senior educationist at basic and secondary education ministry said the opportunities that come with the fourth Industrial revolution are lower barriers between inventors and markets role for the artificial intelligence, integration of different techniques and domains and improvement of the quality of life at home, work, and many other places.
According to him, learning innovation is an initiative to explore the close links between how people gain knowledge and how they apply it, saying by educating and empowering people, one enables them to achieve goals through their own ideas and efforts. "And that is one of the reasons for the incredible success of public education in the United States. But with any institution, the incorporation of new ideas, discoveries, and methods is absolutely crucial."
Mr Sabally hoped that learning innovation will illuminate such new ideas and pathways and clearly convey ways they can improve learning for all. "We hope our audience will help us to experiment with new approaches and to share ideas and discoveries."
Mr. Sabally used the opportunity to thank the Unique Foundation for their effort in complementing the Government and expressed appreciation for their contribution towards achieving quality services in the Gambia.
Read Other Articles In Article (Archive)