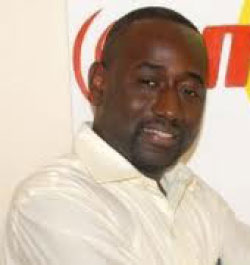 As part of celebrating their four years of services, Unique FM radio on Tuesday launched for the first time what it calls an expressed air and online product thanks to a partnership drive with Gambia Civil Aviation Authority (GCAA).
The development follows a signing of memorandum of understating (MoU) between the two institutions.
At the Banjul International Airport on Tuesday the two institutions officially launched the product.
The purpose of the product is to help the GCAA by giving information both on air and online regarding flight schedules such as air flight take-off as well as cancellations.
Speaking to journalists at the launching of the product, Lamin Manga, proprietor of Unique FM radio, said the initiative was started two years ago.
He explained that launching such a thing is very important in the country because The Gambia is a tourism zone.
The Unique FM boss said they are very excited, adding: "This is the first phase."
"We thank the GCAA for signing the MOU with us. We are celebrating 4 years of service," he said, adding that the first phase was at the greater Banjul area.
"We hope to work with our partners to build up new product. We have the first phase a year ago and we hope this will spread out. We launched this product to inform the general public when a flight is coming or cancelled. This is starting as soon as possible. We would be going to work with the airlines and we are 24 air services," he said.
Ansu Bojang, director of GCAA, thanked and expressed his happiness with Unique FM for partnering with them in this endeavour.
He explained that Unique FM radio is one of the famous FM radio stations in the country and they have been contributing immensely in nation building in terms of informing the general public.
Unique FM signing a MoU with the GCAA is very important because this will help them to give information to the general public on  flight schedules, he says, while thanking  Unique FM and its proprietor Lamin Manga for the partnership.
Read Other Articles In Article (Archive)